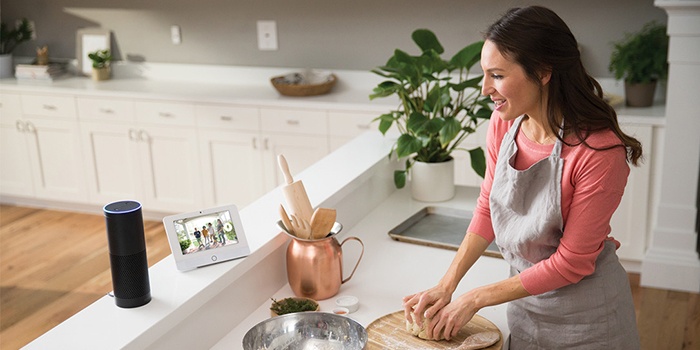 Why Should You Become a Vivint Authorized Retailer?
WRITTEN BY:
Ben Jenkins
DATE: October 14, 2016 at 4:32 PM
Hundreds of business opportunities are available in the market today. You can pick everything from franchises, to investments, to e-commerce, to authorized retailerships and more. But why choose Vivint? What benefits can you expect as a retailer? And why would your customers choose Vivint?
To quickly summarize the answers to these questions, Vivint provides a simple and affordable smart home solution. Everything they do is to make life better for their customers and to even save their customers' lives when disaster strikes. It's a mission they're happy to pursue and it's a whole lot of fun.
When you team up with RS&I and Vivint, you get to go after the same mission. And yes, you can earn a significant amount of income at the same time.
Take a little time to read below and see what you could accomplish as an Authorized Retailer.

Who is Vivint?
In 1999, Todd Pedersen started APX, a company marketing and selling third-party security products and services. For the next twelve years, APX alarm expanded rapidly, became a full-service security company, and expanded from a security company into the home automation market.
In early 2011, APX was officially re-branded as Vivint. By mid-year 2012, Vivint reached a milestone bringing in an astounding $30 million dollars in recurring monthly revenue. In late 2012, the Blackstone Group acquired Vivint for over $2 billion, giving Vivint additional resources and helping them to continue expanding and developing new products and services.
Today Vivint has more than 1,000,000 customers, making them one of the largest smart home technology providers in North America. Combine this rapidly growing market with Vivint's award-winning service and products and you can see that Vivint is well positioned for continued growth and success. For all of these reasons, getting set up with Vivint is a great option for those looking to build or grow their business. Is that you?
Who is RS&I?
We are a master sales agent and distributor for a variety of products and services. We've been around a while...for over 45 years. A lot of business partners have found it beneficial to use our services and currently we're teamed up with DISH, HughesNet, CenturyLink, Ooma and RingCentral. In 2014, we also began working with Vivint to provide an opportunity for qualified retailers to sell the industry's leading security and smart home solution.
Our sales team is spread out among nine different locations in the United States to provide local support to our various retailers. If you choose to pursue Vivint, we'd get you set up as an Authorized Retailer and do everything possible to make it a successful and profitable business venture for you and your team.
BENEFITS OF BEING A VIVINT AUTHORIZED RETAILER
Vivint is a phenomenal option for those starting a business and for those looking to add a product line to their existing portfolio. A few of the major highlights include:
Minimal Upfront Investment
Unlike most franchises and other ventures, you won't have to fork over a large sum of money or contact an investor to get started with Vivint. Depending on your location, our sales team will guide you to know what to expect as you begin your journey.
Competitive Commissions
You'll find a very favorable compensation package as you dive into the details. Once again, our trained staff will walk you through the ins and outs of how you can make the most with your sales.
Well Established Brand
Vivint has pumped millions and millions of dollars into making a name for themselves. You get to benefit from their massive marketing campaigns, research and development, and the daily efforts of their employees. It's a brand that people trust and you can be proud of their reputation.
Sales Training & Support from Industry Experts
You don't have to go at it alone. In fact, you'll get the chance to be trained directly by Vivint and RS&I as you get yourself organized.
Professionally Produced Marketing Materials & Sales Aids
Yes. A variety of advertising materials are already approved and available. We've put together some awesome options to help you get noticed in your local community.
Marketing Funds to Help Cover Advertising Costs
As you make sales, you earn advertising dollars that you can put towards your marketing campaigns. It's a system that builds on itself. The more you sell, the more you can cover advertising costs. Pretty cool.
Consumer Benefits of Buying Vivint
In order to sell a product or service, there has to be a need in the market. And the product or service you sell has to fill that need. There is a growing demand today for home security, energy savings and home automation, which places Vivint as an appealing option for your customers.
In fact, according to a market report published by Transparency Market Research titled "Home Automation Market - Global Industry Analysis, Size, Share, Growth, Trends and Forecast 2014 - 2020," the global home automation market was valued at 4.41 billion in 2013, with a forecast to grow to 21.67 billion in 2020. That is a lot of potential business! How much of it will be yours?
Consumers today are choosing Vivint as their home security and automation solution for a variety of reasons:
Packages
Customers get to choose from four packages to deliver the level of security and automation they desire. It allows them to customize the features and benefits they want most. Of course, we'll always recommend the Total Smart Home Package to provide the best of everything Vivint has to offer.
Control
Talk about control. Between the SkyControl Panel, Vivint Sky App, Amazon Echo, Nest Thermostat and Element Thermostat, end users can command everything from room temperature and lights to the front door and garage door. It saves money, energy and keeps your most prized possessions safe.
Security
Door and window sensors alert Vivint Sky when triggered, so customers never have to wonder if their home is secure. It provides the highest level of burglary detection possible.
Cameras
Three different cameras are available. The Outdoor Camera gets you a high definition look at your home when you're away. The Ping Camera can be placed on any flat surface inside the home and gives a glance at the pets or kids when parents are absent. The Doorbell Camera delivers visitor detection, night vision, 2-way talk and the ability to see the front door step from anywhere.
Services
Vivint's services are all in-house, so they train their employees to give the best customer service possible. They also have 24x7 monitoring that stays awake when you're asleep. When systems are getting installed, they do everything professionally with their own technicians. Rest assured, top-notch services are a big deal at Vivint.
Conclusion
To wrap it up, the Vivint Authorized Retailer opportunity is a great option whether you are looking to get started or to add a strong product line to your existing business. This industry is growing and expanding rapidly, and Vivint is well positioned to lead the pack with their world-class products and services. With Vivint, you can expect competitive commissions, sales training and support, and many other benefits all with a minimal upfront investment.
If you would like more information on how to become a retailer, take a look at our website and you'll be up and running in no time!
---
We have introduced many of the opportunities RS&I offers and why they may or may not be a good fit for your business. From DISH, to HughesNet, to RingCentral and CenturyLink, we have laid out the retailer benefits and given you a little glimpse into each of the companies.
Please feel free to visit the links below!