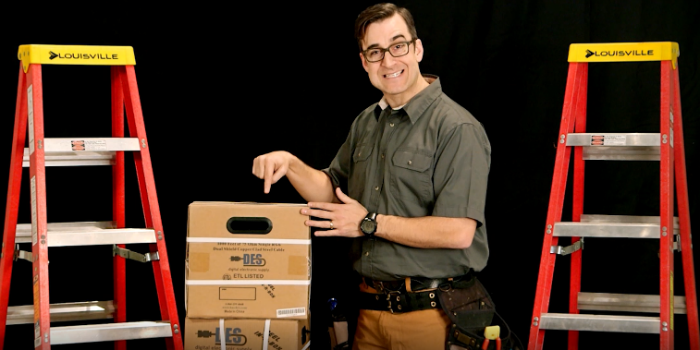 Think Inside the Cable Box! A Great Solution for Authorized Retailers
You always hear about thinking outside the box to generate new ideas and efficiencies. But what if you took all of those ideas and put them back into an actual box?
That's exactly what Digital Electronic Supply (DES) has done with their boxes of cable and RS&I is proud to partner with such an innovative company. It provides our authorized retailers who install satellite TV and Internet with an excellent solution for their everyday installation needs.
DES manufactures a wide variety of cable types, including several variations of RG6. The key to their success, according to many technicians, is their convertible box that was engineered with the technician in mind to facilitate an efficient cable feed while protecting the box from potential damage at the same time. The "Reel-In-A-Box" packaging has a number of features that make their packaging truly tech-friendly.
Reel-In-A-Box
Cable is heavy. And it takes the right packaging to unreel the cable without getting it tangled and to keep the box from falling apart. Nothing is worse than having a 30-pound box of cable get destroyed on the first work order of the day and having to wrestle the snags, tangles and feeding issues until the box is gone. DES engineered their "Reel-In-A-Box" to accomplish the best solution with these features:
2 CORRUGATED LAYERS
The double layering provides a moisture resistant box to help keep the cable dry.
OCTAGONAL REEL
An octagonal shape gives the spool the strength it needs to not get squished or out of shape too easily.
ROLLED SPOOL EDGES
There's nothing worse than a bad snag in the cable line during an installation. The rolled spool edges provide a snag-free experience.
SECURED WITH 4 STRAPS
The straps help hold everything in place and provide zero reel slippage.
REINFORCED HANDLES
You won't find wimpy handles on these boxes. Everyone likes a sturdy grip.
It's easy to see how well DES builds these cable boxes!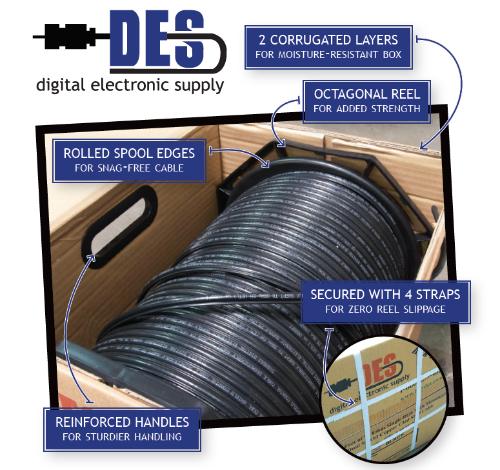 See for Yourself
Courtesy of DES, you can see a video they produced to explain all of the features and benefits we listed above. Take a couple minutes to see this box of cable in action. It works well and can take a beating!
Cost Savings
As mentioned in the video, there is significant cost savings to the way these cable boxes have been designed and engineered. It's common for technicians to throw away the last bit of tangled up cable because it's too much of a hassle and wastes time to get it all straightened out. But when you don't have to worry about tangled cable, you can save a bunch of money by using every last bit of cable that's in the box.
Partner Up with Us
If you're looking to become an independent installation technician or an authorized retailer of DISH Satellite TV or HughesNet Satellite Internet, you've got a great opportunity teaming up with RS&I. We are a master distributor and sales agent with nine locations in the Western U.S. and we can help you get started on a new long term business opportunity. You'll get many benefits, like the fact we've established strong partnerships with companies like Digital Electronic Supply to give you the best equipment and tools you need to get the job done right.
It's a great time to think inside the box!