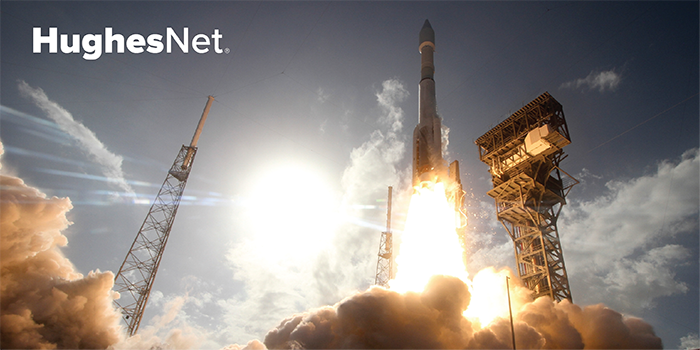 Now Is the Time to Become a HughesNet Authorized Retailer!
WRITTEN BY:
Ben Jenkins
DATE: February 10, 2017 at 10:19 AM
If you've ever thought about the opportunity to become a HughesNet Authorized Retailer, now is the time!
Why?
As explained in one of our latest blog articles called World's Highest-Capacity Broadband Satellite Launched Successfully, Hughes is getting geared up to provide the best high-speed satellite Internet service ever and it'll cover nearly the entire United States.
The goal is to have the new satellite service, called HughesNet Gen5, fully functional by April 1, 2017. That's in less than two months! For any households or businesses that have struggled to find great Internet service, especially in rural markets, HughesNet Gen5 is the solution. Millions of customers in the U.S. will be wanting and needing the better internet service to handle all of their daily Internet-surfing and TV-streaming activities.
And that's exactly why now is the time to become a HughesNet Authorized Retailer.
Before
HughesNet Gen4 High-Speed Satellite Internet has been a lifesaver for the rural markets for several years. Many customers that didn't have much access to the Internet have been able to stay connected to the world wide web from almost anywhere.
As seen in the image below, HughesNet Gen4 ran on two different satellites - one called Jupiter 1 and another called Spaceway. Jupiter 1 covered the areas in green and Spaceway covered the area in blue. While both satellites comprised the Gen4 service, it was known that the Spaceway satellite (blue area) didn't have Internet packages and speeds as fast as Jupiter 1 (the green areas). It was simply because Spaceway was the older satellite of the two satellites.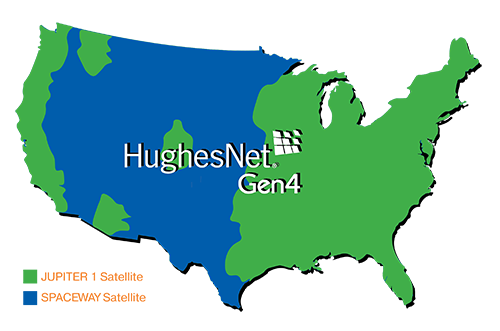 RS&I's territory for HughesNet Authorized Retailers covers the western and mid-western portions of the United States. While we have had access to Jupiter 1 in several areas, the bulk of our territory has been covered by Spaceway.
That's about to change. Customers across the United States, especially the ones in the blue area, are about to get a major upgrade to their satellite Internet service as they go from Gen4 to Gen5 service plans.
After
The Spaceway satellite will no longer be used and Jupiter 2 is the new, replacement satellite that was successfully launched in December 2016. Paired with the Jupiter 1 satellite, these two satellites will be powering the brand new HughesNet Gen5 Satellite Internet. With the new service, the speeds will be more consistent and much faster than before. In fact, Internet speeds coming from HughesNet Gen5 will be the fastest speeds available in the United States for satellite Internet.
It's easy to imagine the all benefits of the fifth generation of HughesNet for both consumers and businesses.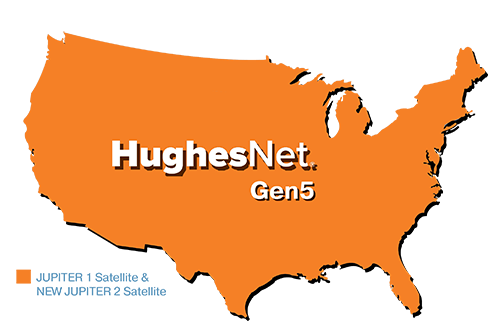 The same service plans will be available across the country, which means a HughesNet Authorized Retailer in Utah with be able to offer the same plans to their customers as a retailer can in Wisconsin. It's an opportunity unlike any other in this industry and RS&I can help you make it a successful and profitable journey.
How Does RS&I Help HughesNet Authorized Retailers?
We are a master sales agent and distributor for HughesNet. As you team up with us, you get the benefits of having a local sales team for training and support and you'll enjoy local warehousing for all the parts and equipment you need to get each job done in a professional and efficient manner. The local warehousing also saves you time and money. You can decide to be a sales agent or an installation technician or both! You can even build a team of individuals to handle the many different aspects and responsibilities of sales and installations. You've got many options to suit your needs.
You'll also have access to a wide range of marketing materials, training resources, and tools to support your customers. The incentives are unmatched in the industry and, simply put, your partnership with us just cannot be beat.
In order to learn more about becoming an authorized retailer, simply fill out our Contact Us form and we'll get you in touch with your local RS&I sales representative from one of our nine locations. They'll be able to answer your questions and point you in the right direction.
And if you're serious about this business opportunity, make sure you act quickly because HughesNet Gen5 is about to take off!
Photo credit for top image: SpaceFlight Insider