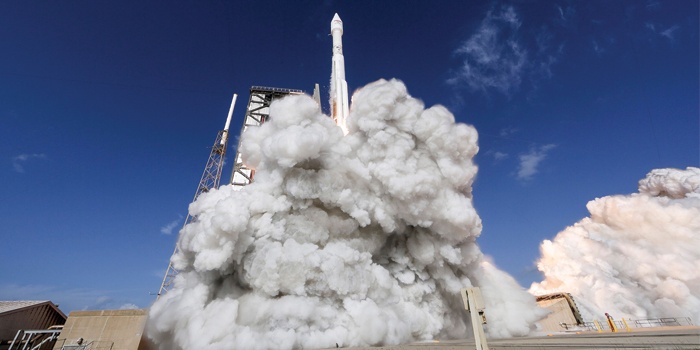 World's Highest-Capacity Broadband Satellite Launched Successfully
WRITTEN BY:
Ben Jenkins
DATE: December 19, 2016 at 4:50 PM
Success! EchoStar XIX launched triumphantly on December 18, 2016, from Cape Canaveral, Florida. It will be the world's highest-capacity broadband satellite in orbit, powering the growth of HughesNet - America's number one choice for satellite Internet - to deliver more speed, more data and more advanced features to consumers and small businesses from coast to coast.
Rural America will be more connected than ever before because of this brand new high-throughput satellite. EchoStar XIX is set to power the next generation of satellite Internet service, called HughesNet® Gen5, for potentially millions of customers.
Many, many consumers have been waiting for a better option to link themselves to the ever-connected Internet world and they are about to get their chance. In early 2017, EchoStar XIX will be fully functional and HughesNet will be providing an even bigger, better, more reliable satellite Internet service than anyone else - as usual.
Innovative Technology
Designed with Hughes JUPITER™ System technology, EchoStar XIX is a multi-spot beam, Ka-band satellite. It was built for Hughes by Space Systems Loral and successfully launched on a United Launch Alliance Atlas 5 launch vehicle from the Kennedy Space Center. The satellite has deployed its solar arrays and is successfully performing post-launch maneuvers, according to plan. EchoStar XIX's 138 beams will cover the continental United States, Alaska, Mexico and parts of Canada and Central America.
When combined with EchoStar XVII currently in orbit, also a Hughes designed and SSL-built high-throughput satellite which has been in service since 2012, EchoStar XIX will enable HughesNet to more than double its current capacity and support faster speeds and provide more data for today's online activities. HughesNet currently has more than one million subscribers and was recently ranked first in delivering advertised speeds in the Federal Communication Commission's 2016 "Measuring Broadband in America" report - for the second year in a row!
EchoStar XIX will spend the next two weeks moving into a geosynchronous orbit at 22,236 miles above the earth at 97.1° west longitude. It will go through extensive testing before going live at the end of the first quarter of 2017, when Hughes will introduce its HughesNet Gen5 high-speed Internet service in the United States.
"The launch of EchoStar XIX represents a significant leap forward in redefining satellite Internet and is an incredible technology accomplishment that we are proud to share with our partners at Space Systems Loral and United Launch Alliance," said Pradman Kaul, president of Hughes Network Systems. "Hughes invented satellite Internet and with our fifth generation record-breaking platform, we will deliver faster speeds and more data, enabling our customers to do more of what they love online."
The Launch
Check out some of the highlights of the actual satellite launched on December 18, 2016, courtesy of United Launch Alliance. It has some powerful visuals of the Atlas 5 rocket taking off in Florida.
Interested in Becoming a HughesNet Authorized Retailer?
It might sound cliché, but now's the time to become a HughesNet Authorized Retailer. With all of the power-packed improvements to satellite Internet coming from Hughes in 2017, it's an excellent service to add to an existing business portfolio or to even begin a new business opportunity.
At RS&I, we are a master distributor and sales agent for HughesNet and we can help you get set up as an authorized retailer. That's what we do! Reach out to us and let us know what questions you have and how we can help you build a profitable business. You can also review one of our other articles, called "What to Expect as You Begin Your Authorized Retailer Journey (Part 1)".
Thanks to EchoStar XIX and Hughes, the fifth generation of HughesNet high-speed satellite Internet will be here in no time!
Sources for the above article:
http://www.echostar.com/launch
https://spaceflightnow.com/2016/12/18/atlas-5-rocket-launches-satellite-to-bring-high-speed-internet-to-more-americans/
https://www.hughesnet.com/gen5
http://www.hughes.com/company/newsroom/press-releases/hughes-high-throughput-satellite-successfully-launched-setting-the-stage-for-the-next-generation-of-satellite-internet?locale=en
https://www.fcc.gov/reports-research/reports/measuring-broadband-america/measuring-fixed-broadband-report-2016
https://www.youtube.com/watch?v=XNrmkLnpsUo&t=7s
Photo credit from top of article: United Launch Alliance/Lockheed Martin