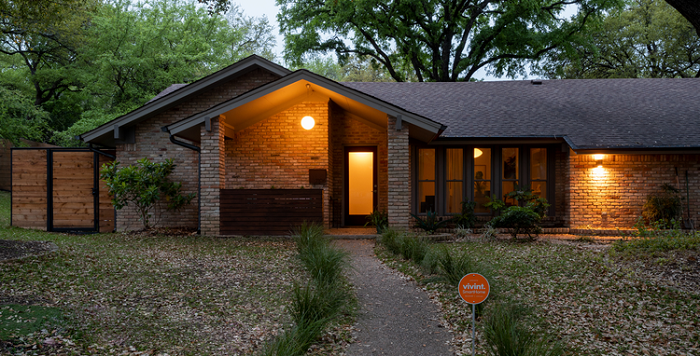 Vivint Smart Home: Whole-Home Security and Automation
Peace of mind is invaluable, especially when it comes to protecting your home. Vivint Smart Home gives RS&I Authorized Retailers a way to give customers a whole home automation and security solution in one simple, professionally installed package.
24/7 Monitoring and Support
Vivint provides world-class home security through cutting edge technologies and features, all working together in one integrated system. They have 24/7 monitoring to respond to an emergency even if you can't. If an alarm in your home is triggered, Vivint's security professionals are immediately notified of the alarm and take action on it. They contact you to make sure that you and your family are safe, and they contact the proper emergency personnel, such as the police or the fire department. So, if a fire starts, a break-in occurs, or carbon monoxide is detected, you can rest assured the emergency can be handled quickly whether you're at home or not.
Professional Installation
With Vivint's Smart Home Pros handling all of the installation, there are no worries or DIY headaches. They do all the work, and they consult with the customer to create a customized smart home. They'll help determine what devices and add-ons will be useful, and educate on how to utilize each of them.
Devices
Everything in a Vivint Smart Home starts with the Smart Hub. It is a central command center and notification station for everything connected to the system. It features a 7-inch HD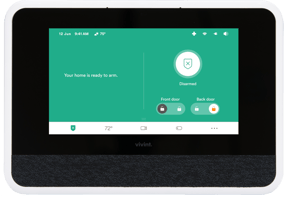 touchscreen, an easy-to-use interface, and instant two-way talk to any connected cameras or to a Vivint agent. It also has a dedicated backup battery and cellular connected encrypted Wi-Fi to ensure that your systems keep running even in the event of a power outage.
The entire system can also be controlled all from the Vivint app, free on any smart phone or tablet. It gives you the power to view and control your home no matter where you're at.
Vivint has smart devices to automate and secure nearly every aspect of your home. Their array of cameras includes indoor cameras, outdoor cameras, and the doorbell camera all to help you keep visual tabs on your home at all times. The outdoor camera lets you monitor anybody who might be coming or going from your home. It has wide-angle HD lens, infrared night vision, and smart detection to know the difference between people and pets or passing cars. It also has Lurker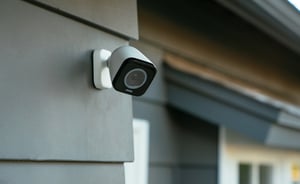 Detection, which helps to prevent break-ins by automatically warning lurkers they've been spotted, causing them to look up at the camera. The indoor cameras are great for keeping an eye on pets when you're away, or play rooms to help make sure your kids play safely even when you're in a different room. The doorbell camera allows you to instantly see who is at your door, and monitor deliveries or packages that may be coming to your house. It automatically illuminates the camera's LED ring when somebody approaches so that they know they're on camera. It also has advanced notifications, able to notify you of packages or people at your door.
Window and door sensors detect when a door or window has been opened and will notify you of such an event while your system is armed and you are away. It will also notify Vivint's professionals in case there's an emergency situation. Motion sensors within the home will do the same when any unexpected movement is detected inside and you're not home. Alternatively, when you are home, the motion sensors can coordinate with a smart thermostat to adjust temperatures according to whether people are there or not.
Smart Locks
With Kwikset Smart Locks on a Vivint system, say goodbye to the need for keys. You can set up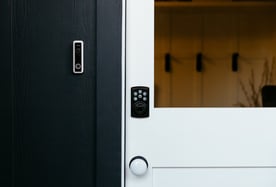 unique access codes for family members, friends, and visitors. And just like the other components of a Vivint system, you can control your locks from anywhere with the Vivint app.
Vivint also has glass-break detectors, garage door controls, water sensors, smoke and CO detectors, and more. Every aspect of your home can be protected with a Vivint system.
Connectivity to Google Devices and Others
The best thing about any smart home device is the ability to integrate them with one another. Vivint integrates seamlessly into Google Home or Amazon Echo, which adds the power of voice assistants to control and monitor your Vivint Smart Home. Just ask Google or Alexa to set thermostat temperatures, lock doors, or show you cameras with only your voice.
The Vivint sales program available to RS&I Authorized Retailers gives a unique advantage. With our exclusive Pro Power Selling approach, you can sell Vivint with RS&I and leave the installation to the professionals at Vivint. And it can be packaged or bundled with any other RS&I products or services. Contact us today to get started!