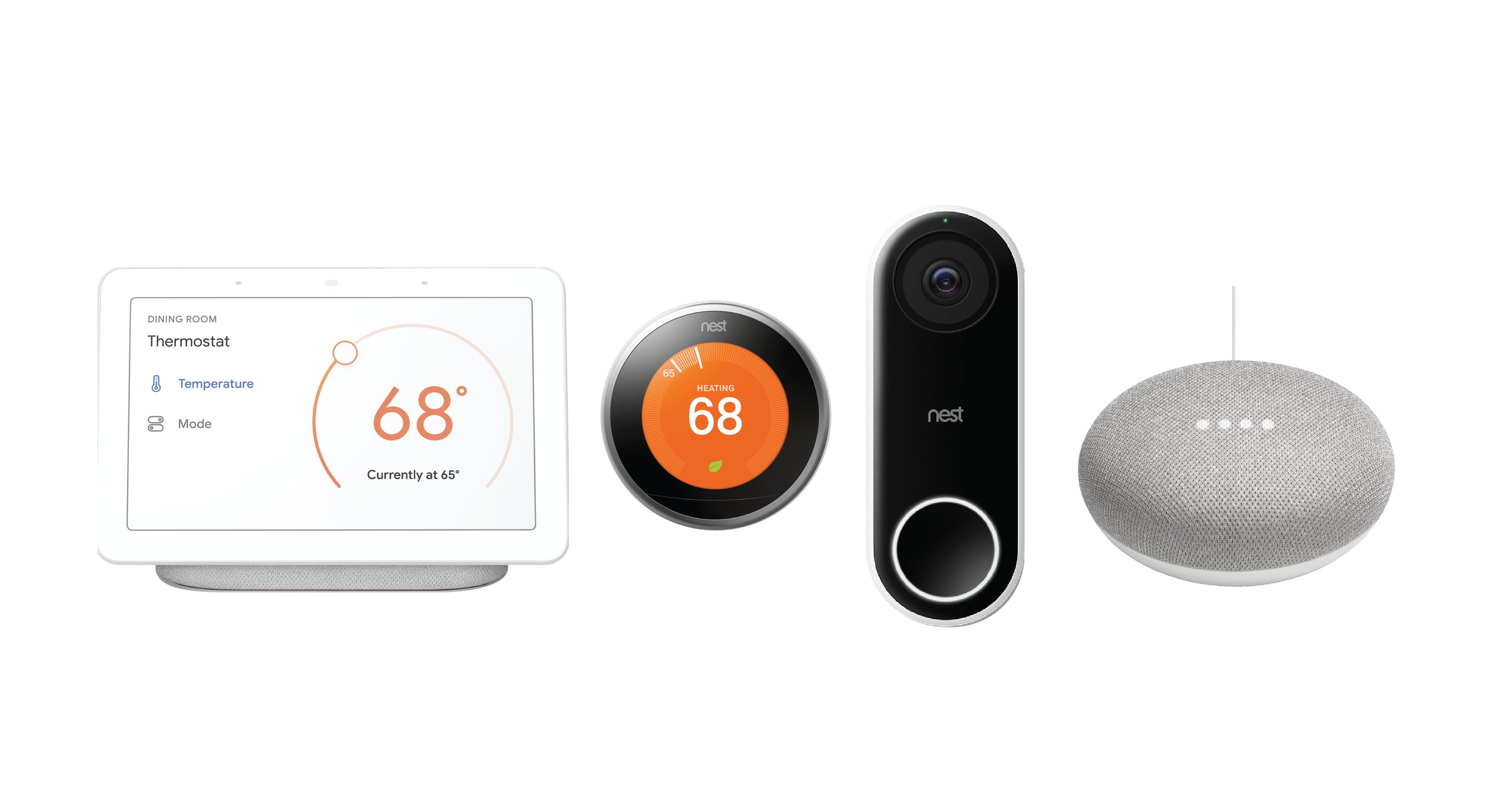 Endless Smart Home Possibilities With Google Nest
With many Americans spending more time at home due to the COVID-19 pandemic, there is an unprecedented demand for products that make home life easier, more comfortable, and more secure. The Google Nest family of products driven by the sales power of DISH and RS&I are here to help you fulfill those needs for customers in your local area!
Google Home: A Smart Assistant
Google Nest smart home devices are built around the Google Assistant, an artificial intelligence voice assistant that can carry out countless tasks and allows you to interface with Google Nest products. Google Assistant learns the voice of each person you designate as a member of your Google Home with their own individual Google Account. Since all Assistant actions are linked to your personal Google account, your assistant can help you with information, calendars, automation tasks, note taking, and entertainment options all specific to you and your voice. You can also set up routines, where your Google Assistant reacts to a specific command or phrase (such as "Hey Google, I'm home") and then runs through a series of tasks that you have predetermined.
Home Hubs and Speakers
The Google Home Hub and the Google Home Hub Max are essentially a command center for your Google Assistant and all connected smart home devices. It has a screen that can show you basic information such as weather, news, or your calendar. It can also be used to watch video content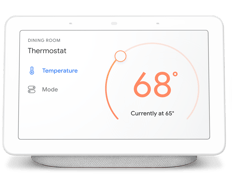 from platforms such as YouTube, listen to music streaming services, or to view live feeds from any Google Nest cameras you have connected around your home. The Google Home Hub Max offers a larger screen than the Home Hub, a higher quality speaker, and a camera on the front that can be used for live video calls. These displays are great on a nightstand or a kitchen counter top to be the center of your smart home experience.
Google smart speakers such as the Google Home Mini come with all the same capabilities of Google assistant and playing music or podcasts, just without a display screen.
Indoor and Outdoor Cameras
Wi-Fi connected cameras allow you to monitor what goes on inside and outside your home at all times, and Google Nest has an entire family of cameras to suit any needs. These cameras are great for monitoring your yard or garage, entrances to your home, or a nursery/playroom/family room. Neighborhood watch and home security has never been easier!
First up is the Google Nest Hello Doorbell Camera. This replaces any existing traditional doorbell with a full HD camera so that you can monitor what's going on at your front door. It allows you to see people from head to toe at your door, or check on deliveries or packages that may have been left on your porch. It runs a live stream 24/7, and you can check in and view it anytime from anywhere via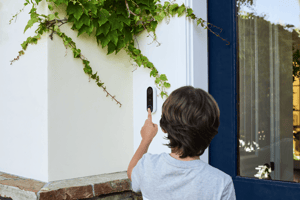 your smartphone. And, you can get alerts on your home hub, your smart phone, or on your DISH Hopper 3 anytime there's activity at your doorstep. It also has 2-way voice allowing you to talk to the person at the door, or you can activate prerecorded responses to visitors. Plus, the Nest Hello can be wired into your existing doorbell chime so that you'll still hear your "classic" doorbell whenever somebody presses the button.
Nest also has indoor and outdoor cameras that can be placed wherever you need them to offer further security and monitoring around your home. The Nest Indoor and Outdoor Cams offer 1080p HD video streams, and an all-glass lenses so you get a clear image. And just like the Nest Hello, they come with 2-way voice so that you can hear and talk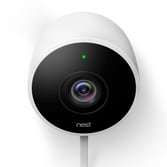 to guests or a potential intruder. The Nest IQ Indoor and Outdoor cameras have all the same great features of the base indoor and outdoor cameras, plus a 4K sensor for even better image quality, close-up tracking, HDR, and more robust speakers and microphones built-in.
With a Nest Aware subscription, you also get event recording that allows your Google Nest cameras to intelligently detect events on your cameras and save those videos in the cloud for 30 or 60 days, depending on your subscription plan.
Most importantly, all Google Nest cameras are safe and secure, and only accessible with your Google account. All of them have AES 128-bit encryption and two-factor authentication to ensure that only you or anybody you choose to allow has access to them.
Learning Thermostat
The Nest Learning Thermostat gives users a way to automate the climate control in their homes and save money in the process. The thermostat learns what temperatures you like at what times of the day, and automatically builds a schedule of regulating temperature around you. Independent studies have shown that the thermostat has saved people an average of 10-12% on heating bills and 15% on cooling bills. Additionally, you can set up your own schedule, or temporary schedules, for vacations or other times where you wouldn't want to be utilizing heating or cooling as normal.
It even helps keep your home safe, by alerting you if the temperature in your house is so low that pipes could freeze, or if your furnace isn't functioning the way that it should. As with other pieces of a Google smart home, you can control and set temperatures directly at the thermostat or from anywhere via your smart phone.
DISH Hopper Google Assistant Integration
As mentioned before, the DISH Hopper 3 with Google Voice Remote is now an integrated part of the Google Nest smart home. With the Google Voice remote, you have all of the capabilities of the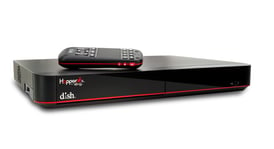 Google Assistant in your hand at the center of your entertainment experience. You can control all of your smart home devices, or monitor your Nest Hello Doorbell camera all from the comfort of your couch. Even further, you could set up a custom routine in the Google Home app such as "Hey Google, it's movie time", and have it turn on your TV, launch Netflix, dim your lights, set the thermostat how you want it, and lock your front door.
Special Opportunity with RS&I
This only covers a small portion of the devices and capabilities available with a Google Nest smart home setup. From door locks, to carbon monoxide and smoke detectors, to lighting and power outlets, the possibilities are endless! With the support of DISH and RS&I through our Authorized Retailer sales programs, you can capitalize on this unique opportunity to grow your profits and be the expert in smart home solutions with Google Nest. These products also present fantastic cross-selling opportunities with our other various Authorized Dealership programs, so contact an RS&I Account Executive today to find out how easy it is to get started!