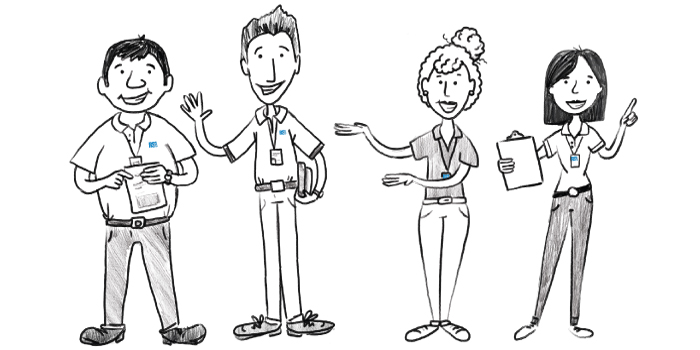 RS&I is the Opportunity Hub for Small Business
WRITTEN BY:
Ben Jenkins
DATE: January 30, 2019 at 3:20 PM
Our sales and marketing teams recently attended a door-to-door conference in Salt Lake City, Utah, where they had the privilege of rubbing shoulders with a lot of small business owners. After many discussions, the ability to help them add one of our authorized retailer programs to their current lineup of services became abundantly clear. RS&I is well positioned to be the opportunity hub for many different types of these small businesses.
Some of the highly interested business owners came from several different industries, such as roofing, automobile paintless dent removal, home automation and security, solar, and even windshield repair.
Whether you find yourself in one of these industries or a different one, now's the time to consider looking at one or more of the many opportunities made available through RS&I. There's a good chance we can help you meet your financial goals.
RS&I, WE ARE OPPORTUNITY
Take a couple minutes to watch our video that gives an overview of all the programs we offer and then review some of the details below to help you determine for yourself which programs will help expand your business.
The top thing to keep in mind is participation in all of these programs is not required when a business teams up with RS&I. We encourage everyone to take a good look at all of the programs we offer, but we want to make sure each of the selected programs are the best fit for each business model.
DISH Network—Our DISH Authorized Retailer program offers sales and installation opportunities throughout our exclusive distributor territory, which includes Arizona, California, Colorado, Idaho, Montana, Nevada, New Mexico, Oklahoma, Oregon, Texas, Utah, Washington and Wyoming. Satellite TV continues to be an excellent option for millions of Americans to get all the channels they want to watch, especially in rural areas.
HughesNet—RS&I serves the largest HughesNet distribution area for the #1 choice in high-speed satellite Internet in the United States. Our fulfillment and installation services for HughesNet cover 13 states, including Arizona, California, Colorado, Idaho, Montana, Nevada, New Mexico, Oklahoma, Oregon, Texas, Utah, Washington and Wyoming. Everybody needs Internet, no matter where they live.
Vivint Smart Home—Through our Vivint Authorized Retailer program, we offer sales and installation opportunities for home automation and security products and services in nearly every state, which means it's possible to build a fun and rewarding business just about anywhere. When you're ready, check with us on the details for both sales and installations.
CenturyLink—CenturyLink provides Internet and phone services for businesses and consumers in select markets through its high-quality advanced fiber optic network and multiple data centers. RS&I's partnership offers nationwide sales opportunities for CenturyLink throughout their available service areas.
NuvoH2O—RS&I serves a nationwide program for NuvoH2O Authorized Retailers, which gives them the opportunity to provide a citrus based water softening treatment for homeowners and businesses. No matter where you operate in the United States, we can provide you with sales and installation options in your area.
Ooma—Since we've partnered with Ooma, you'll be able to sell a top-notch Internet phone service with homes and businesses throughout most of the United States. You'll also have a local RS&I sales team to help get you up to speed as an Ooma Authorized Retailer.
COMBINING SERVICES FOR THE BEST OUTCOME
You can choose one, two, three or more of the opportunities with RS&I to add them to your existing portfolio or to begin a new adventure altogether. You'll find yourself with a customized collection of new possibilities.
Whether you're combining your roofing company with DISH or windshield repair with Vivint Smart Home or any other combination of services, RS&I has a solution to bring you some of the strongest brands in the industry and to help you expand your business.
Go ahead and reach out to us to get more information about becoming an authorized retailer for any of these awesome services. We are opportunity!