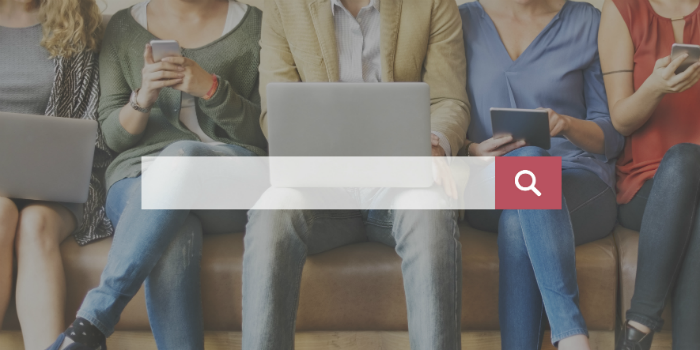 How to Create a Dynamic Internet Presence for Authorized Retailers
WRITTEN BY:
Ben Jenkins
DATE: February 28, 2019 at 4:37 PM
Creating a dynamic Internet presence is much more than checking off a list of digital marketing tactics. It's understanding how each of those tactics are related and connected to each other, which is what many professional marketers call a digital ecosystem.
At the center of a digital ecosystem is a company's main landing page. Every other online marketing tactic should branch out from or be redirected to a well-developed website. The main site doesn't need to be loaded with bells and whistles, it just needs to be a central hub where accurate service and contact information is displayed.
RS&I's job is to set authorized retailers up for success as a small business and that includes helping them understand the importance of having a functioning website to support all of their online marketing. Let's take a look at six steps an authorized retailer or any small business owner should consider for their digital marketing plan.
SIX STEPS TO CREATING A DIGITAL ECOSYSTEM
Internet Presence—An article from Forbes said it best with the following quote, "having a professional, polished looking website that functions easily and offers customers easy navigation, strong photo images, professional quality content and an overall experience that engages them enough for them to want to do business with you is key." With all of the ready-made website solutions available today, not having a decent looking website is not an excuse anymore.
Get Found—Submitting your business information to directory listings and maintaining a good online reputation are essentials to helping you get found. Need ideas on which directories to use? Check out The Ultimate List: 57 Online Local Business Directories from an article HubSpot published just last year. The top three directories to focus on currently are Facebook, Apple Maps, and Google My Business. Get your information posted on these main directories and assign yourself or a coworker to keep an eye on reviews and ratings. Responding quickly and promptly helps to keep your online reputation in check.
Drive Traffic—Google extension locations are a great way to drive traffic to your website. Not familiar with extension locations? Learn more from Google on their support page to guide you through all the details. "Location extensions can help people find your locations by showing your ads with your address, a map to your location, or the distance to your business. People can then click or tap your extension to get further details about your location on your location page, which includes the most relevant business information all in one place."
Engage with Customers—Interacting with your customers on social media is key. You know they're interested in your content by all the likes, comments, shares, and reviews they generate. Don't feel like you have to be a viral rock star to engage with your customers. Most of the time, they just expect you to be simple, fun and interesting. If you'd like some creative ways to engage with your customers, follow the 5 Proven Social Media Engagement Strategies for 2019 by HubSpot.
Retarget Recent Visitors—When a potential customer reaches your site and shows interest in a certain product or service and then abandons your site, this is a perfect opportunity to retarget them through one of your online ads on another site they visit. Retargeting through display advertising gives the potential customer a chance to rethink their decision at a later time and can increase the chances of a sale. Take a few minutes to learn more about The Art and Science of Retargeting for Marketers.
Streaming Tactics—Another fine option to showcase your awesome company and its services is to create small audio and visual ads and run them on a variety of music services, such as Pandora. These kinds of ads can be targeted based on a geographical location. For example, if you're selling a service in a suburb outside of Seattle, you can target the audience living in that area with your ad while they're listening to their favorite streaming music app.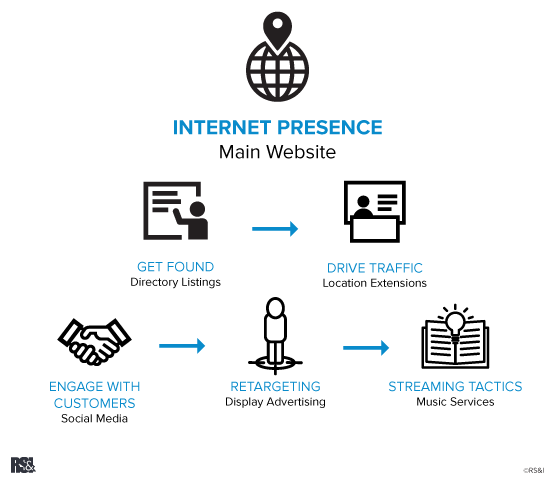 The best recommendation we can give is to take time to strategize. Identify how each of these digital tactics tie into each other and how you'll make an interconnecting, streamlined experience for the customer.
Sometimes you'll want to direct customers to an individual landing page, rather than your main website, because they may only be interested in one of your products or services. Customizing their experience can go a long way to help make the sell happen.
THANK YOU & FEEL FREE TO CONTACT US
Hopefully you were able to generate some great new marketing ideas on how to create a dynamic Internet presence for your own small business. If you're interested in adding any of our products and services to your current lineup, feel free to contact us. We're happy to answer any questions.
Best of luck on creating your very own digital ecosystem!