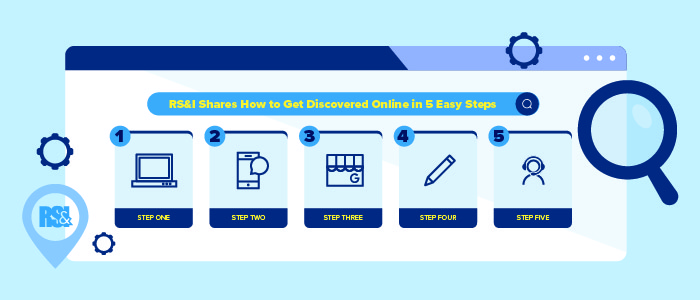 5-Step Online Presence Check-Up
The importance of a strong online presence for your business cannot be overstated. From driving sales, to generating a strong brand, to building strong customer relationships, the values are endless. Here's a quick checklist for yourself to gauge where you stand, and improve your presence in some areas.
Your Own Website
It may seem obvious, but an actual, standalone website is critical for you to have. Many small businesses make the mistake of thinking that if they simply have a Facebook page that's all they need. That couldn't be further from the truth. Potential customers want to see that are out on the web in all forms that make sense for your business. A well-built, functional, easy to navigate, informative, and relevant website helps build your SEO and builds trust with customers. Keep in mind that your website should at least consist of several main key pieces including: contact information, address(es), photos, products/services, about you, and links to socials and other places you exist online. It shows customers your credibility and helps them to trust you.
Social Media Pages
Now, while your website should be your first foundation, social media pages are also absolutely important. For most of our dealers, we recommend that Facebook, Instagram, and Twitter at least should be platforms that you're on. You could also be on more, such as TikTok or Pinterest. The key thing to remember in all of this is generating relevant and interesting content for your audience. If you have the capability to come up with creative, engaging content for your customers on TikTok, by all means, jump into the platform and leverage it!
Be sure that you also have the time and ability between you and your team that will allow you to fully monitor and respond on any and all platforms you exist on. Customers will attempt to interact with you on all of them, and if they don't receive responses or feel that you're listening to them, it will have a negative impact on their perception of your business.
Google My Business
We've talked about Google My Business (AKA Google Business Profile) at length in a previous blog post, but this is essential in helping to drive local search to your physical business location. If somebody is located in your city/area Google searches something like "satellite TV provider", you want to be among the results that come up. The Google My Business platform helps make that reachable. Keep in mind that Google My Business is ONLY for businesses that have an actual storefront/location where the customer could physically walk into your location to conduct business.
Blog
One aspect of a website we didn't discuss is a blog (like the one you're reading right now!). Blogs give your existing and potential customers another way to learn about your business. They can be used to drive a deeper understanding of the benefits that your products and services can offer them in their daily life. It can also help the customer feel like they know more about you.
Customer Service/Interaction
A huge portion of customers want a digital way of contacting a business when they have questions, comments, or perhaps most importantly, complaints. It is vital that you have multiple ways they can contact you online. Live chat built into your website is great if you have the people to manage and respond to it. A way to send a message directly to customer service from your website is also great. As mentioned above, social media profiles are huge here. Customers will comment and direct message you via social and expect you to respond.
Also, be watchful of reviews. This includes your own site, Google My Business, Facebook, and other third-party sites such as Yelp, Bing, etc. It's good practice to always respond to reviews, positive or negative. And with negative reviews, acknowledge their poor experience, offer to make it right, and take the details of that further conversation to a 1-on-1 message if possible. All of this will obviously help build trust with those customers writing reviews, but more importantly, it will show other exploring customers how you treat customers. And that will make them more likely to bring business to you.
Online Presence Isn't a One-Time Effort
Keep in mind that in order to remain relevant and reachable online, it's no different than every single other aspect of your business - it requires constant effort! As an entrepreneur, you know that the wheels only keep turning if you're putting the effort behind them. However, the great thing about being an RS&I Authorized Retailer is that you have support to help you every step of the way. We have a dedicated in-house Marketing and support team, here to help guide you towards success every day. Plus, your own Account Executive, who is there to help you drive sales all the time. If you're not yet participating in an RS&I Authorized Sales Program, what are you waiting for? Contact one of our regional branches today and find out more about the support you can gain for your business.