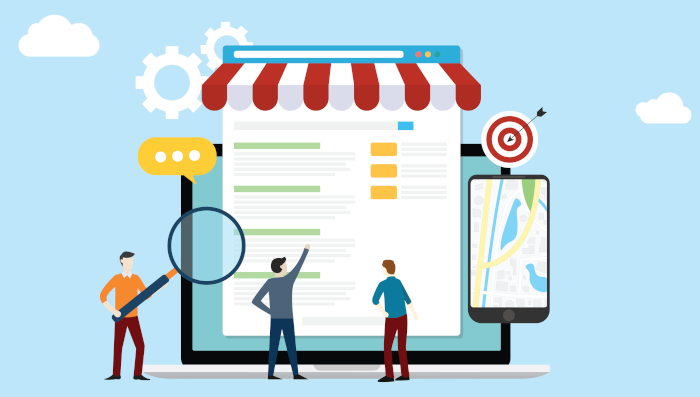 Google My business: Helping to Set Your Digital Foundation
An easy to find, online presence is one of the most essential things every business needs to have. There are many steps you can take to build a better online footprint. One of the first things you should do is utilize the Google My Business platform.
What is it?
Google My Business is a free service that gives you a business profile, allows you to manage your business listing on Google, and also easily connect with customers in Google Search and Maps.
Obviously, the core of the platform is your business listing. Have you ever done a Google search for a business, only to discover there isn't much helpful information available? That's likely because they're not using Google My Business. Your business profile is a powerful listing of your business where you can showcase the best things about your business through photos and descriptions.
Get Started
The first step to utilizing this tool is to claim your Google My Business account, which is completely free. You simply go to google.com/business and either sign in with an existing Google/Gmail account you use for your business, or create a new one. Then it will guide you through filling out the information needed to build out your business profile. It will take you through a verification process, which typically involves them sending you a postcard through the mail to your business with a verification code. It is absolutely crucial that you complete this verification process, otherwise your Google My Business information will not be visible to the public.
As you're setting up your business profile, it is also of central importance to complete all fields available. It will ask you about the basic contact, location, and business hours information. It is crucial to be as meticulous and complete with this information as possible. Make sure that your business name is identical to how it appears on your storefront. Be careful to match other listings for your business that exist online – match words like "st" vs "street" or "pkwy" vs "parkway". Google's algorithm looks at differences like these when determining if you are actually the business you claim to be.
Then you will also be asked about category, description, attributes, products/services you offer, and more. Remember that this information is what will help potential customers find your business on Google. So, it's a good idea to think of the information here from an SEO (search engine optimization) perspective. Think about what kinds of keywords and phrases people may use in their searches that would help connect them with your business, and utilize those keywords in your profile information and descriptions.
Photos Tell a Story
Google My Business allows you (and the public) to add photos of your business. Since anyone can add photos there, some may not be of very high quality. That means you want to take charge and lead the way with your own high-quality images so that you can help make your profile look as good as possible. Images with clear depictions of your business help to build trust. Customers are much more likely to engage with a business if they see inviting images as they're searching that help set the expectation for what they'll experience with your business. What this doesn't mean is that you should add hundreds of images to your profile right now. You want to make sure you're posting meaningful photos. Your logo, interior and exterior photos, happy customers, product photos, and group shots of your employees are all good images to have. You should not use stock photos, as the entire point is to showcase what your business is like in the real world. To that end, it is also recommended to avoid filters or overly stylized images so that you're presenting a real feel. And keep in mind this is an ongoing process. You should periodically be adding photos to your business profile to keep it up-to-date, and to help yourself appear in searches more frequently. You'll also want to be regularly looking at images posted by other people to your page. If there are inaccurate or inappropriate images posted, you can flag them so that Google can review and remove them.
Reviews
Are you more likely to buy from a business with many positive reviews, or one that has no reviews? While we think that answer is obvious, the degree to which consumers trust reviews might be staggering. Approximately 87% of consumers read online reviews for local businesses in 2020, and 79% of consumers say they trust online reviews as much as a personal recommendation from friends or family. Suffice it say, reviews for your business can make a substantial and direct impact on your sales. You want to encourage your customers to leave reviews, and you want to make it easy for them to do so. It's a good idea to start with long-standing, loyal customers. The simplest way to get reviews is to just ask for them. You can do so in email campaigns, social media, print materials in your store, etc. To make it easy for customers to leave reviews, you can utilize Google's built-in "short name" URL creator so that they can type it in easily and post a review. You should also make a "reviews" page on your website with a call to action with this link too.
Just as important as getting reviews is the other side of it – responding to those reviews. Whether they are positive or negative, it is in your best interest to respond to customers that took the time to leave you a review. Not only does it build confidence and trust with that individual customer, it shows other customers who see those reviews how you operate. It communicates that you listen to your customers and engage with them.
Responding to negative reviews can be difficult. Obviously, nobody likes to read something negative about themselves or their business. It can be hurtful, and it can be tempting to retaliate to a customer who leaves a poor review. Step away from the keyboard to cool down if you have that urge, and come back to it later. When you respond, you want to make sure you thank them for their feedback. Apologize for the experience they had, and stress that it is not the normal experience. You should offer to make things right and take the conversation offline whenever possible. Say something like "please contact me at 123-456-7890 or at abcsatellite@abcsat.com so that we can resolve the issue." This helps avoid back-and-forth conversation where other customers can see it, and the potential of further embarrassment for your business. Giving them direct contact info for yourself or somebody at your business that handles customer issues shows them that you are sincere in your desire to fix the problem. You also want to avoid copy-and-paste responses. Remember that these can be seen by anyone, and if you're just saying the exact same thing to every review, it can convey the message that you don't actually care about your customers and their feedback.
Questions and Answers
The platform allows for customers to ask questions of the business. This is another feature that helps build engagement with potential customers, so you'll want to make sure you respond to these in a timely fashion. You can also populate this section with your own frequently asked questions and post the answers to them so that customers may not even need to take the time to ask something that is commonly asked.
Messaging
They also have direct messaging built into the platform. This allows you (or somebody you designate in your business) to receive direct messages via an app on your phone from customers on Google. This is another great way to be available and responsive with your customers, but only use this setting if you have somebody that can be fast to reply. It's not advised to have messaging set up if it's going to take you multiple days or weeks to respond to messages there.
Posts
Similar to social media profiles like Facebook or Instagram, you can make posts on your Google My Business page. These could contain things such as announcements, promotions/specials, events, etc. You want to integrate this with your marketing campaigns, as it's a great way to communicate with customers and as with all features of the platform, can improve your appearance frequency in searches.
A Platform as Powerful as You Make It
Your Google My Business profile should be a foundational piece of your digital presence and your overall SEO strategy to drive customers to your business. As you can see, there are many ways that it can help inform customers, work towards converting them, and give them easy ways engage with you and your team. However, as the saying goes, a tool is only as good as the hands that wield it. This a powerful tool that can accomplish a lot for you, but you need to ensure that you feed it complete, accurate, up-to-date, and succinct information to properly capitalize on it.
Information for this blog post was sourced from https://www.google.com/business/