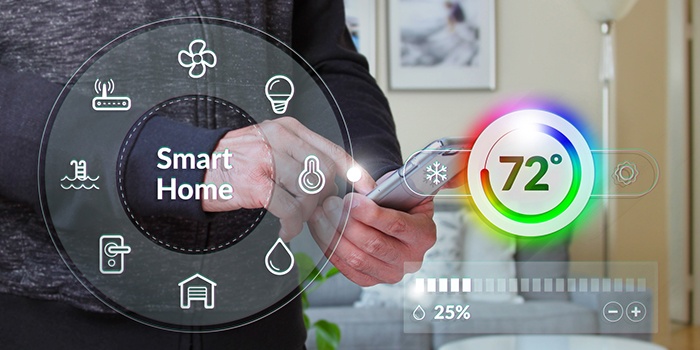 The Upgrade: Home Security to Home Automation
We've all heard of home security. It usually means to install some sort of system to keep strangers from getting into our homes and stealing our stuff. No one wants to have their brand new 65-inch TV ripped off the wall or lose their prized collection of antiques. And that makes perfect sense. But what's the next step beyond home security and how can it enhance our lives?
Most people have heard about home automation and they may even have some level of automated system installed in their home. It's a rapidly growing market and it's important to educate everyone about what a quality home automation system can provide.
We'll highlight some of the most advanced features and benefits of home security and automation in this article and how you can make it a part of your home and even how to make it a business opportunity - if that's what you decide.
First, what is a smart home?
"A smart home is a home that is equipped with a system to automate and remotely control lighting, doors, thermostats, audio & video entertainment, security & surveillance, and any number of connected household appliances in ways that streamline the mundane tasks involved with operating a modern household." (Source: Vivint)
Essentially, with a smart home, you can turn your entire residence into one large smart device. A smart home is transformed from just simple home protection to becoming remotely accessible and energy efficient – saving time and money in the long run.
You can also get a lot of peace of mind when you are away from your home by having access to many of its basic functions. Sometimes we wonder if the house is flooding, who's at the front door or if we turned down the heat, but now we don't have to wonder anymore.
"The defining feature of a smart home rests on the distinction between programmability and intelligence. And the intelligence that makes a smart home truly smart comes from a centralized, interconnected control hub. A good smart home hub is one that bundles the full suite of smart devices into a rich communication ecosystem that enables users to control each component from a single control panel, or with voice commands, and in some cases enables components to respond to one another without direct interaction from the user." (Source: Vivint)
Second, Which home automation service should you use?
Simply put, we recommend getting set up with a system from Vivint.SmartHome. Not only is it an industry leading system, but you'll also find the service and reliability to be amazing. Take a look at a quick summary of awards Vivint has earned just this year:
2016 Best Contact Center Manager Award
The International Customer Management Institute (ICMI) gave Vivint's contact center this prestigious award, which means they have a level of customer service you can believe in and trust.
Electronic House Product of the Year
Electronic House named Vivint Doorbell Camera a 2016 Product of the Year.
2016 BIG Best Places to Work
Vivint Smart Home is the overall winner of BIG's inaugural Best Places to Work award contest. When employees are taken care of, they often do an excellent job at taking care of customers.
CE Pro Award
Vivint tops CE Pro's annual list of custom installation companies.
(Source: Vivint)
Third, which devices give you the best smart home?
A variety of devices can be connected to the control hub to customize your experience and fit your individual needs - giving you the best system possible. Among some of the most popular devices, here's a breakdown:
Amazon Echo
The Amazon Echo was ranked as the "Best Smart Home Centerpiece" by CNET. They also gave the following review: "If you're looking for a central control point for your smart home gadgets, you'll have a hard time finding a better option than Amazon's voice-activated smart speaker, or its likable virtual assistant, 'Alexa.'"

The best part? Amazon Echo can be fully integrated with a Vivint.SmartHome system. With the command of your voice, you can turn off the lights, reset the temperature, close the garage door, and more.
Doorbell Camera
It detects when you have visitors at the front door and lets you see who happens to be ringing your doorbell right on your mobile device. It also provides you with a 180-degree view, which makes it harder for visitors to hide out of sight of the camera. With a touch of a button, you can engage in a 2-way conversation with whomever may be at your door (and the visitor won't know if you're at home or not).
Nest & Element Thermostats
A Vivint.SmartHome system also integrates with the popular Nest Thermostat, giving you even more control over the functionality of your heating and cooling. It's kind of like installing a self-controlled brain child to make sure your home is always at the right temperature. Pretty cool!

The Element Thermostat is another option provided by Vivint that let's you select preferences for when you're at home, on vacation, temporarily away for any reason and even if you're sleeping. It's just another way to make your home even more awesome.
Ping Camera
The Ping Camera is designed to sit on your countertop or any other convenient in-home location to give you a quick glance of what's happening inside, no matter where you may be. You can set it up to alert you when it detects motion and it even has an infrared camera to see what's happening at night or in the dark.
Flood Sensor
This is cool. With the flood sensor, you can be alerted if you have a busted pipe to keep you from all the time-consuming water damage that can occur in an instant...or, you can at least prevent as much water damage as possible. It's an excellent way to prevent a lot of heartache by addressing a disaster quickly.
Garage Door Opener
One example of why the garage door opener is so handy is when you have someone show up at your door with a package, you can take control of the situation. If you're doorbell camera is installed, you can see who's there and then open the garage door remotely to let them safely set the package inside. With another touch of a button you can close the garage door after the delivery person leaves to keep your next set of birthday presents safe and sound.

It's also nice to check on your garage door remotely, just in case you're not sure if you left it open after you drove away. No more second-guessing yourself!
The Upgrade
As you can see, there are many devices you can install to turn a household from a simple home security system into a technologically advanced smart home. And we didn't even cover all of the different pieces of equipment that can be included in a Vivint.SmartHome system. The value, technology and service provided by Vivint are leading the way for every homeowner to gain the peace of mind they want in a smart home.
Business Opportunity
At RS&I, we are a master sales agent to provide a business opportunity to anyone that wants to sell Vivint.SmartHome systems. Our team is dedicated to help anyone looking for another revenue stream by getting them set up as a Vivint.Smarthome Authorized Retailer. If you're interested, contact us and we'll give you all the information you need to make a smart decision.
No matter what, you can't go wrong with a smart home provided by Vivint!