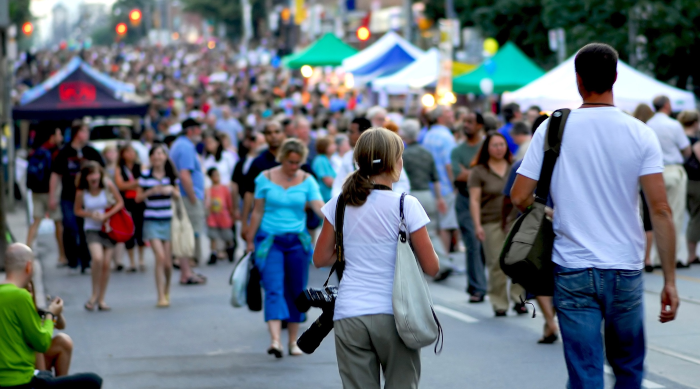 As the country continues to make progress coming out of the COVID-19 pandemic, events are coming back in many locations. And after a year of missing out, people are more eager than ever to attend them. Which gives you a wonderful opportunity to get in front of plenty of new faces and grow your business.
There are so many different types of events you can set up shop at: county and state fairs, concerts, rodeos, festivals, flea markets, local sporting events, and more. Plus, you can always create your own pop-up events. Many dealers find a great deal of success in just simply putting a tent up in their parking lot for a weekend. You could even look into partnering with a local restaurant or food truck to set up with you in the parking lot. Or work with a local radio station to come out to your location to host live broadcasts and help promote the event. The possibilities are endless.
Planning and Preparing
You can easily find numerous local and regional event calendars by doing a simple Google search for that information in your local market. As you're searching for events you should create your own calendar to keep track of ones you would like to attend. This will make it easier to keep things organized as you sign up. We also have an Event Workbook that can help you remain organized with budgets and event materials.
You should take advantage of opportunities to advertise for any events in advance. You may be able to partner with the event organizers to be included in some of their advertising. You should also promote the event on your social media platforms, in your storefront, in emails, on your website, and on any other ad platforms you utilize. When posting on social media about the event, tag the event in your posts if they have a social page, and also use relevant hashtags to help drive interested traffic to see your posts about it.
It is critical that you plan ahead no matter what you do. It will help you make sure that you have all of your event materials (booths, banners, table cloths, etc.), the proper equipment to get set up at the event, and the right staffing to support your presence at the event and maximize sales. These steps are key to ensure that you properly leverage the event to get as much as you can out of it.
Things to Do During the Event
It's no secret that it's always a good idea to do some kind of giveaway at events. It can really help draw people in to your booth. It could be anything from simple swag items with your business name and logo on them, to contests or larger prize drawings. For example, if you have signs in front of your booth advertising that you're running drawings for free Nest Doorbell Cameras, it's going to catch people's attention and make them want to stop and talk to you. Having an activity or game (such as a ring toss, dart throw, spin the wheel, etc.) attached to prize winnings can also encourage more engagement from event attendees. It's all about creating more opportunities for sales conversations with people who may not have cared to stop without a giveaway or activity.
You want to make sure you are staffing your event with energetic, outgoing salespeople. While this may seem obvious, they need to be the type of person that will remain actively engaged with people all day long. This helps guarantee that people have a positive first impression of your business. And while plenty of individuals may not turn into sales at that event, they will remember what kind of conversation they had with your team, and it can definitely impact the likelihood of them becoming a customer at a later date.
You should be posting on social media for your business during the event occasionally. Shoot a quick video or picture and discuss the promos and prizes you've got going on there. You could even tie a specific prize to it with something like "Mention this post at our booth and get a free prize!". Anything to help build interest and engagement.
It's also important to be mindful of the COVID health and safety protocols in your local area. You want to make sure that all potential customers feel comfortable and safe approaching your booth. Having hand sanitizer available and following a cleaning procedure for your booth is always a good idea.
After The Event
When the event is over, it's imperative to properly review how it went, and honestly evaluate questions about it such as:
What things worked well?
What didn't work?
What new things did you learn for the next time that event comes up?
How many sales did you generate?
What was the final cost of the event?
Was it worth it, and would you attend this event again?
Keep in mind as you're considering these types of questions, there are also benefits beyond just simply the number of sales generated at that specific event, including increased brand equity and awareness in your local community.
Get Out and Do Something!
This summer has already shown itself to be a particularly unique opportunity for events for our Authorized Retailers in numerous markets, and we suspect that will continue to be the case for quite some time. People are motivated to get out and attend events, and you want to make sure your business is part of the action. If you're not sure how to get started with events in your area, or you just need a little bit of guidance along the way, contact one of our dedicated RS&I Account Executives today. They're here to set you up for success!