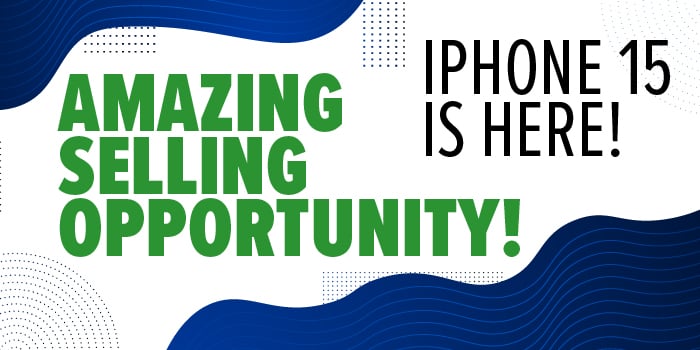 The Golden Quarter of Wireless Sales and iPhone 15
It's an annual tradition in the world of wireless – like clockwork, every autumn Apple brings their brand-new devices out from behind the curtain creating major buzz in the tech industry. This year's iPhone 15 brings unprecedented hype and incredible features. The 4th quarter of the year has become known as the "Golden Quarter" because of the amazing sales growth you can capitalize on. Apple fans don't miss a chance to upgrade to the latest and greatest, and sellers can't afford to miss out on the opportunity.
iPhone 15 Highlights
New iPhones always boast exciting new features that customers can't wait to get their hands on. Here's a rundown of the impressive iPhone 15 features that are driving sales.
The time has come – iPhone 15 is now charged via a USB-C port. This is great news for iPad and MacBook users as now all of those devices charge with the same cable! Additionally, now iPhone and Android users can utilize the same charging cable.
Dynamic Island is a small area at the top of the iPhone 15's screen which displays key information and notifications. The Dynamic Island was previously exclusive to the iPhone 14 Pro models, but now it's available on the iPhone 15 and 15 Pro as well. This feature allows you to see alerts and live activities more easily, without interrupting your full-screen experience. You can also customize the Dynamic Island to show the information that matters to you most, such as battery level, time, date, weather, and more.
The new family of iPhones have stunning Super Retina XDR displays that offer incredible brightness, contrast, and color accuracy. This means you can enjoy photos, videos, games, and apps even in the brightest outdoor lighting. The displays also support HDR10 and Dolby Vision, which deliver enhanced dynamic range and vivid colors for your media content.
Many people view their phone's camera as one of the most important aspects of the device, and the camera technology of the new iPhones is simply unmatched. The main camera has been upgraded to a 48MP unit, which can take more detailed or brighter shots as you need. You can choose to shoot in super-high-resolution mode or use the quad-pixel sensor to combine four pixels into one for better low-light performance. The main camera also has sensor-shift optical image stabilization, which reduces camera shake and improves image quality. Both the base model and the Pro model also have a 12MP 2x telephoto camera, which is enabled by the quad-pixel sensor. This camera allows you to zoom in at 2x magnification without losing sharpness, or zoom out at 2x magnification for a wider perspective. You can also use the digital zoom up to 10x for even more reach.
Improved Portrait Mode lets you create stunning portraits with blurred backgrounds and realistic lighting effects. You can now enable or disable portrait mode during or after taking photos, or switch subjects when editing. You can also adjust the focus and depth of field with dedicated controls, or choose from six portrait lighting effects to enhance your portraits.
Cinematic and Action Modes can record stunning videos in 4K resolution at up to 60 frames per second, with HDR and Dolby Vision support. Cinematic mode allows you to create movie-like videos with automatic focus changes and depth-of-field effects. Action mode lets you record fast-paced videos with smooth motion and reduced blur.
Powered by the A16 Bionic chip, the iPhone 15 processor is a 6-core CPU with 2 performance and 4 efficiency cores, a 5-core GPU, and a 16-core Neural Engine. This chip delivers blazing-fast performance, smooth graphics, and powerful machine-learning capabilities. The A16 Bionic chip also enables features like Face ID, Siri, Animoji, Memoji, and more.
Every user needs their device to last as long as possible without stopping to charge. With "all-day battery life" for both models, The iPhone 15 and 15 Pro also support fast charging and wireless charging, so you can quickly top up your battery when you need to. Apple has also addressed iPhone 14 battery capacity complaints by giving iPhone 15 users a new option to put limits on the maximum charge, while also providing more detailed information to the user regarding their battery's health.
Features Exclusive to the Pro Model
True Apple die-hards always want the top-tier device. The main advantages of the Pro model this year over the base iPhone 15 include smoother scrolling, a faster processor, an additional camera, and a longer-lasting battery. Here's the comparison: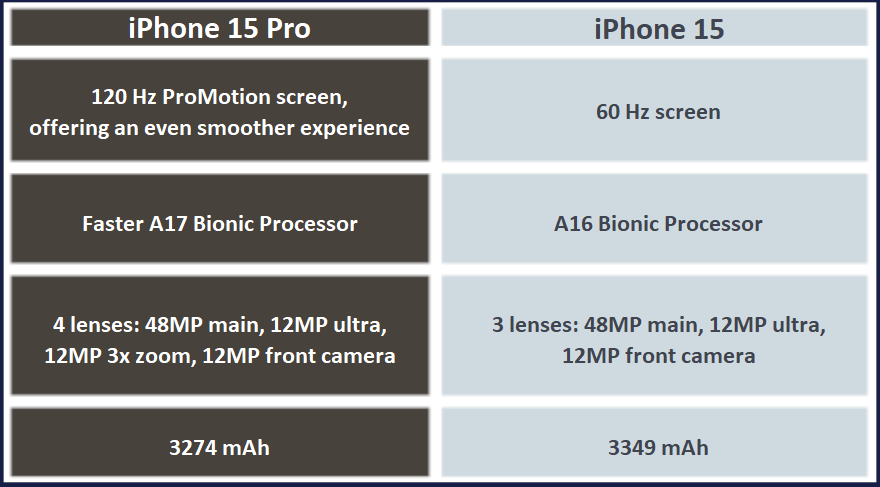 Massive Opportunity for Selling
RS&I Authorized Dealers selling AT&T Wireless are set to experience unmatched success right now off the back of the iPhone 15 launch, and even more growth coming as the holiday season approaches. There's never been a better time to start selling wireless, and RS&I is here to set up dealers all across the US to sell the service their customers are looking for. Countless people are going to be buying new iPhones this quarter, wouldn't you prefer they buy them from you? Click here to become a dealer today!