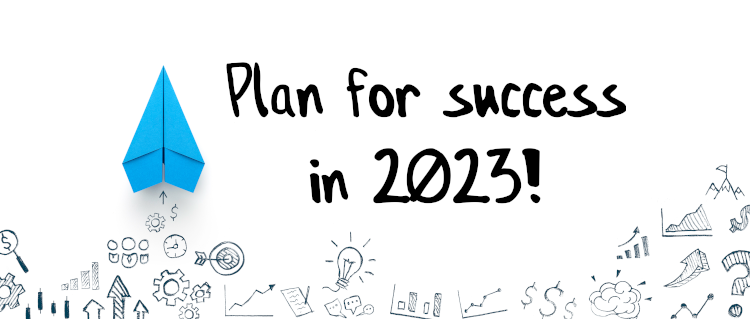 Setting Your Business Up For Success in 2023
What do you want to accomplish in 2023 with your business? Have you begun putting anything in place to get you where you want to go? Business growth doesn't just happen – it takes deliberate effort and work. But Authorized Dealers partnered with RS&I don't have to do it alone! Our dealers have dedicated Area Sales Managers and Account Executives to assist in driving sales, as well as a complete marketing team at our corporate office to help you execute winning strategies. Here are just a few tactics for you to consider as you set up your plans for the new year.
Digital Footprint
This is a very important starting point. Make sure your business has a detailed online presence with an up-to-date website and Google My Business profile. These assets can be easily set up for your company through custom software or agencies specializing in small business online reputation and presence. It should come as no surprise to anyone that digital marketing and advertising efforts should be at the forefront for any business today. A staggering 81% of retail shoppers conduct research online before they buy a product (source: https://www.invoca.com/blog/retail-marketing-statistics ). Don't you want to do everything you can to make sure your business is part of that research when customers are looking for solutions that you offer?
Social Media
Social media platforms offer a great advertising route to reach customers in your local market. Perhaps the best part about using those platforms is that you get to control your ad spend and demographic/location targets precisely. If you want to only spend $100 for a couple of weeks in a specific geographic area, you can do that. Each platform's mechanics are slightly different from another, but they all basically boil down to a very simple mechanism – the more you spend, the more consumers you'll reach. Here at RS&I, we support our Authorized Dealers by providing pre-approved social media ads and posts for our qualifying sales programs and helping to guide a dealer to place the ad.
Events
Many people may think of events as being largely a summer activity to help drive sales, but the reality is that there are plenty of events that take place all year round that can be a great opportunity for you to get in front of your customers. Home shows, sporting events (high school, college, and professional), conventions, swap meets, and more give you the chance to talk with potential customers face-to-face. You can even do your own parking lot or pop-up events in front of your showroom, partnering with neighboring businesses to make it beneficial and attractive for everyone. Your RS&I Sales Team is a great resource to help you find events, and also execute a setup to be successful in selling the products and services you offer as an RS&I Authorized Dealer.
Radio and TV
The first quarter of the year is generally a good time to purchase radio and TV ads. Stations often have availability, and consumers are typically consuming a lot of media while winter weather rolls on. RS&I can assist you with approved radio scripts to advertise your services, and can assist you with placing a media buy. Keep in mind too that radio ads can also be placed on digital listening platforms such as Pandora and Spotify.
Direct Mail, Print, Yard Signs, and More
Many businesses overlook the impact that supposed "old-school" advertising can have on their sales, but you're simply doing yourself a disservice if you are ignoring these mediums. In 2022, up to 82% of consumers trust print ads the most when making a purchase decision (source: https://financesonline.com/print-marketing-statistics/ ). As such, the impact of traditional advertising is still huge! RS&I provides our dealers with pre-approved and customized print materials to help get their message out and drive sales.
Multi-Faceted Approach
Perhaps the most important thing to keep in mind is that a successful marketing and advertising plan isn't one-size-fits-all. It should be a multi-angled approach, which is flexible. What is effective in a rural market may not be the same as in a highly urban market. And just because one tactic may not provide the results you expected, that doesn't mean the tactic isn't worth utilizing in the future. It could just need an adjustment to reach the right people. That's just a small part of what RS&I is here for – our sales and marketing professionals guide our dealers to find success in their specific market. Click here to find out more about becoming an RS&I Authorized Dealer to grow your business.