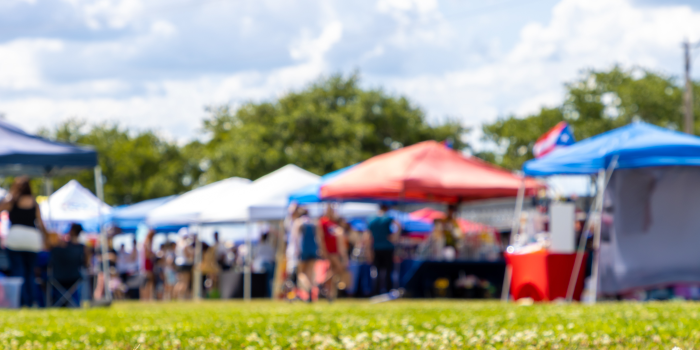 Selling at Summer Events: 5 Hot Tips
Selling at summer events is one of the very best ways to get face-to-face with massive amounts of potential customers and maximize your sales growth. Whether it's county/state fairs, home/garden shows, street markets, concerts, rodeos, or even a parking lot/pop-up event, there are so many great opportunities to talk with large numbers of customers as people look to events for summer entertainment. Here are some quick tips to follow to capitalize on these hot spots for selling.

1. Prepare and Plan Ahead

The first step to making summer event selling successful starts with preparation and strategic planning.

Be Selective: You may not have the time and resources to get to every event in your market that would be valuable, so take some time to evaluate your options and determine what's best for you and the products/services you're selling. Take into consideration factors such as expected attendance count, demographics of attendees, and how much it will cost you (in money, staffing, and effort). Event organizers are motivated to provide this kind of helpful information for vendors to ensure that it's a successful event for everyone.

Create a Compelling Presence: Obviously, the whole idea is to get people to stop and talk to you at events, so you need to have an attractive booth and a professional appearance for your people who will be manning the event. Get creative with giveaways/swag/contests to grab people's attention so they will stop and chat with you. Pro tip: RS&I Authorized Dealers have the benefit of leveraging our Marketing Team and support from our partners to get banners/signage, sales literature, displays, and more depending on the product or service they're selling!

Set Realistic Objectives: Define reasonable goals before you even get to an event. Outline targets for sales you'll close and leads you will gather. Establish a contact form either on paper or online to collect contact information so that you can establish a relationship with potential customers.

However, always ensure that you are following all local, state, and federal laws regarding how you store and utilize any and all customer information that you gather. This is absolutely critical! There are many resources online from the Federal Government that are helpful (

https://www.ftc.gov/business-guidance/resources/can-spam-act-compliance-guide-business

), but ultimately if you have questions we recommend you speak to your legal counsel to ensure you are conducting business in the proper way within your jurisdiction.

2. Choose the Right Products/Services to Showcase

RS&I Authorized Dealers are all different from one another, and your offerings are too! When selling at events it's important to select the best ones to focus your efforts on at events that are going to attract attendees and meet their needs. All markets and events are a little different, so cater your presence at the event accordingly. For example, if it's an RV/Outdoor event, showcase products that are geared toward traveling and outdoor adventures. Picking the right products for summer events is crucial for capturing the interest of potential customers.

3. Actively Engage with Customers

At summer events, creating an appealing and memorable customer experience is huge. Staff your event booth with people who are approachable, friendly, and outgoing. Nobody wants to stop at a booth manned by someone who appears bored, uninterested, or unpleasant! Standing or sitting behind a table and just waiting for people to start conversations with you isn't going to bring you success – get out there and actively interact with people. Demonstrations and displays of your products can help greatly in this effort as well, and let the customer experience the benefits of what you're selling. And it's always a great bonus to offer people swag, even those who don't become a closed sale.

4. Advertise and Promote

Obviously, part of the benefit of participating in an established event is that you get to take advantage of the advertising efforts event organizers do for the event as-a-whole, but do not forget to also do your own advertising to create buzz about you! Digital ads and social media posts/ads are fantastic ways to draw your audience's attention. Spending just a little bit of money and effort on advertising your planned presence at an event can pay off greatly.

Engaging in live updates on social platforms during the course of the event is also a great way to amplify yourself and create excitement. Leverage tagging event pages/profiles with your posts, and utilize hashtags to gain the attention of people who are following and attending the event.

And when the event is over, continue activity on those platforms by thanking everyone who stopped by and showing the excitement and fun that your booth generated at the event!

5. Gather Actionable Take-Aways

After you've fully executed an event, set aside time within your organization to evaluate how it all went. Calculate your sales/costs and determine the financial benefits you gained from participating in the event, but also discuss and document with your staff what went well and also what could be improved for your next event.

Events are Waiting

No matter where you're at or what you're selling, summer events are hot with opportunities to grow your business if you put in the proper effort. If you're looking to increase sales this summer or to get into selling additional products or services, contact us today. Not only will we get your business aligned with the best brands in satellite, internet, wireless, home security, and solar, but we'll also get you set up for monumental success in selling at events.

Event season is NOW! Take full advantage of every opportunity you can to be in front of your friends and neighbors in the community and let them know about the products and services you provide. RS&I supports all our Authorized Dealers with the resources they need to execute well-run and organized events so you can be successful.