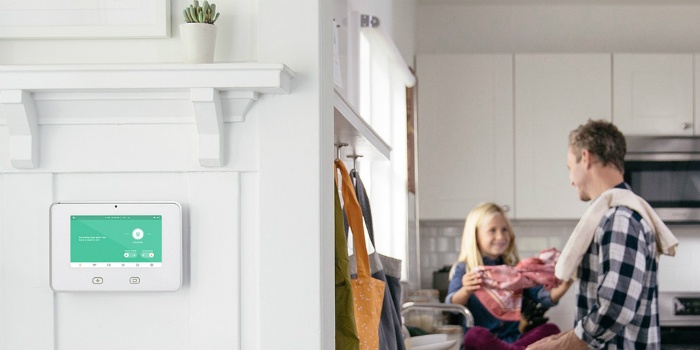 See How to Quickly Promote Your Vivint Authorized Retailership
WRITTEN BY:
Ben Jenkins
DATE: April 21, 2016 at 8:58 AM
When you team up with RS&I to become a Vivint.SmartHome Authorized Retailer, you get much more than just a business opportunity that you have you build all by yourself. You'll get to work with our phenomenal sales team, receive excellent training to get you on your feet and you'll have a host of pre-approved marketing materials that are ready to use to promote your new business.
That's right. In addition to everything else, you'll have pre-approved marketing materials that you can start using on day one and you don't have to invest the time and energy to develop them yourself. As a master sales agent, RS&I works directly with Vivint to get several pieces of marketing material approved and you get to benefit from our work.
Let's quickly explore the top Vivint marketing materials available.
Vivint Starter Package
With the starter package, you'll receive all of these items:
1 Table Top Brochure Dispenser
2 Display Slip Sheets
250 Personalized Tri-fold Brochures
250 Personalized Door Hangers
1 Window Cling
It's an excellent pack to quickly get you set up for a storefront or an event display. You'll also enjoy having enough brochures and door hangers to give out during an event or as you visit with your local community when sharing the best home automation and security system door to door.
Vivint Demo Board
The demo board is the best solution to demonstrate the basic Vivint hardware.
Your potential customers will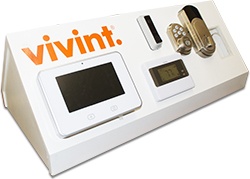 specifically get to see and feel the Sky Panel, thermostat, doorbell camera and door lock in person. It's also portable and doesn't take up much room, which gives you the versatility to display it as needed.
It has become a powerful tool for many of our Vivint Authorized Retailers as they showcase the fully interactive touchscreen on the Sky Panel. Customers will also be able to see the 180 degree view from the doorbell camera on the touchscreen, which is a pretty amazing feature.
Plus, you can download the Vivint app on your smartphone and link it to your demo board to show how it interacts with each of the products remotely. Everybody enjoys the world-class technology!
Event Tent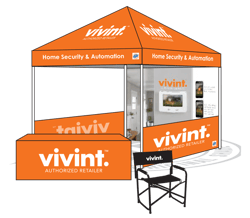 As you may know, events are one of the best methods to get your name and products out to your local audience. It gets you face to face with your community and can generate a substantial number of leads and new customers.
You can order an event tent through our marketing department at RS&I to get everything displayed in a professional manner. It includes the tent, frame, table, table cover and two chairs. The table is a perfect place to put the demo board and get the Vivint technology into the hands of your visitors, as mentioned above.
And it's hard to miss a Vivint event tent with all the orange on display! You'll be sure to stand out.
Brochures, Door Hangers, Fliers & Window Clings
All of the items included in the Vivint Starter Package are available individually. So if you run out of inventory or if you just want more of any particular item(s), you can place an order for exactly what you need to continue marketing your Vivint Authorized Retailership.
Door-to-Door Badge and Shirt
If you're planning on selling door to door, you can get a badge and a shirt to represent Vivint in an appropriate and professional way. The badge will include a nice picture of yourself, your business name, your license number and the Vivint Authorized Retailer logo. You'll also get a bright orange lanyard to match the badge!
As You Can See
Becoming a Vivint Authorized Retailer through RS&I is smart choice. With nine RS&I locations in the western U.S. and a full marketing department at our headquarters in Idaho, you'll find all the sales and marketing help you need to be successful.
If this article has stirred up some questions of your own and peaked your interest in finding out more about the Vivint program, please reach out to us and feel confident that we'll have the answers you need.
We look forward to helping you build your business!