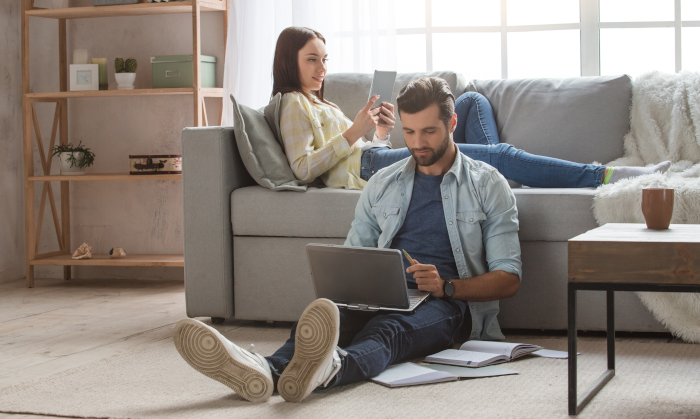 RS&I: Internet Services to Cover Every Need!
It's no secret that access to the internet has become an integral part of everybody's daily life. The invaluable applications for work, communication, and entertainment purposes are limitless. At RS&I, we are proud to work with our numerous partners and their national brands to offer Authorized Retailer programs that can provide internet solutions to nearly everybody, regardless of where they live in the US. And you can be the source for such vital services in your local area.
HughesNet
As America's #1 choice for satellite internet, HughesNet is geared toward reaching those that are located in rural areas, outside the reach of cable, DSL, and Fiber networks. HughesNet offers download speeds of 25 Mbps on every plan to give you the speed you need. There are no hard data limits on HughesNet, and they have various data plans available so that you can select whatever suits your typical internet usage. Even if you go over your selected data plan, they don't charge more or cut you off. You can remain connected at reduced speeds until the next billing cycle. And you can always easily adjust your data plan to accommodate your usage.
Hughes service comes with a wireless modem, and customers also have the option to utilize the Hughes Wi-Fi Booster to eliminate dead spots and achieve whole-home Wi-Fi coverage.
Along with options for home internet needs, they also have their HughesNet Business Internet service and HughesNet Voice for small businesses. With their Business Internet you get all the same benefits as the residential plans, such as great speeds with built-in Wi-Fi. HughesNet Voice delivers VoIP service via the satellite internet connection. It comes with all the features you would expect from a business phone service such as Call Waiting, Caller ID, Call Forwarding, and more.
Last but not least, HughesNet also has their Business Continuity service. It is designed to be a back-up internet connection for businesses in case their main connection goes down. Utilizing this service helps small businesses to ensure they don't run into times where they can't operate their business due to localized internet outages.
CenturyLink
Available in many major markets all across the country, CenturyLink's service provides DSL and/or fiber connection in more urban locations. Their Fiber Gigabit connections (availability varies by location) can provide speeds of up to 940 Mbps. And they offer a "Price for Life Guarantee" that allows a customer to sign up and lock in that price for the entirety of their time as a CenturyLink customer! They also have business internet and voice plans as well.
T-Mobile
T-Mobile is another partner that is on the cutting edge of internet services and technology evolution. With their completed acquisition of Sprint last year, they are now among the top three major wireless carriers in the US. They've been putting major resources into continuing to build their network, and now have the nation's largest 5G network, which can deliver speeds as fast as Wi-Fi on their mobile network. And while they already cover over 80% of American's with their 5G coverage, they plan to be at 99% in just a few years. With all the hottest devices on the market, and plans to fit the needs of any customer, there's never been a better time to be part of the T-Mobile experience!
They also have recently launched T-Mobile Home Internet. It gives you a home internet connection powered by T-Mobile's nationwide network. There are no annual contracts, data caps, hidden fees, price hikes, or hardware costs. It's an easy, do-it-yourself setup, that provides a strong home internet connection capable of handling everything you would expect in a home connection, from playing online games to connecting to work resources.
GotW3
The gotW3 service is a great option for people that are looking for a solution for both home and on-the-go use cases. It's a 4G LTE modem designed to be portable with a USB powered connection, allowing it to easily be moved around to different residences, workplaces, or taken on the road or in an RV. They have plans tailored for both rural and urban customers. There are no credit checks and no contracts.
Smart Home Integrations and More
All of our great internet services are capable of supporting smart home devices and integrations with Google Nest products and Vivint Smart Home, all available through RS&I. And all of these programs can be great cross-selling opportunities with other RS&I Authorized Retailer programs such as DISH or Ooma Office. To find out how you can become the expert in internet service in your area, and utilize the extensive knowledge and experience of RS&I to elevate your business, contact one of our Account Executives today.