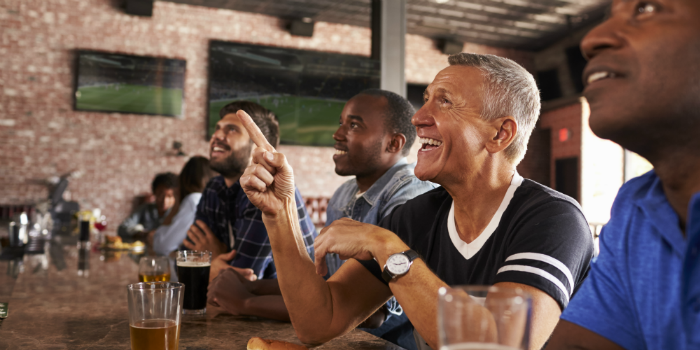 New DISH Remote App Gives Businesses Control of Multiple TVs
WRITTEN BY:
Ben Jenkins
DATE: October 31, 2018 at 5:00 PM
Business owners with multiple TVs in one location have often had the onerous task of managing all those screens with all those remotes and making sure their customers are happy with what they're watching. It can quickly turn into a juggling act based on different customer preferences and requests.
What if every TV could be individually controlled from one central location? What if it was as easy as opening an app on a tablet and tapping a few selections to update all those TVs? No matching remotes with TVs. No finding lost remotes.
That's the beauty of DISH's new remote app—and it's called DISH OnePoint.
A UNIQUE VALUE TO BUSINESS OWNERS
The OnePoint app is a free download from the app stores and is available on both iOS and Android based tablets. It gives business owners a centralized TV management console and serves as a remote control for DISH receivers connected to a private LAN (Local Area Network). TVs can be individually controlled or they can be grouped together to control sections of them at the same time.
Every location has different needs, which makes this centralized management console especially useful in restaurants, bars, fitness centers, professional offices, waiting rooms, and any environment with a need for controlling multiple TVs at once.
No other service solves this TV and remote juggling dilemma as efficiently as the OnePoint app.
DISH ONEPOINT APP FEATURES
Taking a deeper dive into the features, business owners can see the variety of ways to use the app:
Single Interface – Control all TVs connected to the property's network via a single app, eliminating the need for multiple remotes.
Custom Groups – Rename individual receivers and create custom groups to easily control a single TV, a group of TVs or the entire entertainment system.
Favorites – Indicate favorite channels or categories in the interactive guide for efficient channel changes across individual or groups of TVs.
Interactive Guide & Search – Search for content in the interactive guide without interrupting the current program. Filter content by pre-selected favorites or genre, including sports, movies and shows.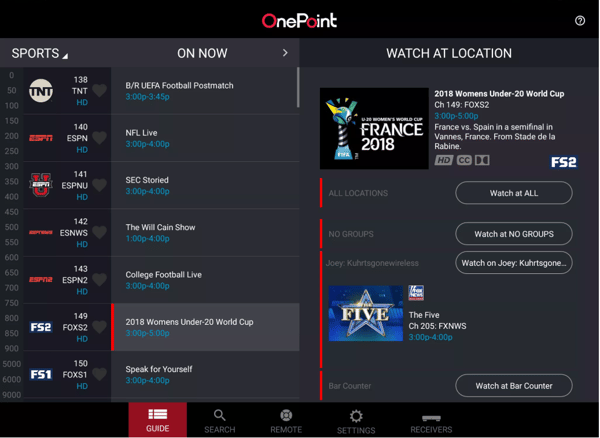 DISH ONEPOINT APP COMPATIBILITY
The OnePoint app is compatible with all generations of the Hopper (1,2,3), the Joey (1,2,3, Wireless, 4k), and the Wally receivers. The Hopper DUO will also be supported in the near future.
All of the devices need to be connected to the same LAN, which may be done by Ethernet to a router or by Wi-Fi connection. Even though an Internet connection is not required for the DISH OnePoint app to work, the receivers will still need to be connected to the Internet for certain features to function.
The wide variety of compatibility options give business owners several choices on how to set up their network of TVs at any given location.
THOUGHTS FROM BUSINESS OWNERS
Several business owners have already had a positive experience getting their sites ready for their customers. Here are a few quotes that address some of the challenges owners face and give some insight into the benefits of the OnePoint app:
"I often get side-tracked with changing channels, and customers get upset when things take too long, causing me to lose money, tips, and customers; but, I don't want to spend a lot of money for an expensive system."
"There's just so much going on, I'm navigating through multiple remotes, TVs, games/shows all while the customer is waiting for me to figure it out."
"I want to streamline my place, not just with my TVs, but also with other features of my business. I love the idea of using my tablet more since it's so portable and easy to access."
BUSINESS-TO-BUSINESS OPPORTUNITY
As far as selling the DISH TV service goes, many people only think about DISH as a residential solution. Making it a business-to-business opportunity hasn't crossed a lot of minds, even though it's been an option for quite a while. Now that the OnePoint app is available, it has made the B2B option even better.
If you've thought about selling DISH before, now's the time to consider it as a service for both home and business owners. The commercial market appears to have a lot of need for the OnePoint app. Reach out to us to learn more!
Photo credit for the OnePoint app preview seen above goes to DISH Network. Also, much of the content in this article has been adapted from the DISH website and press release. We thank DISH for providing information about this valuable new app for business owners.