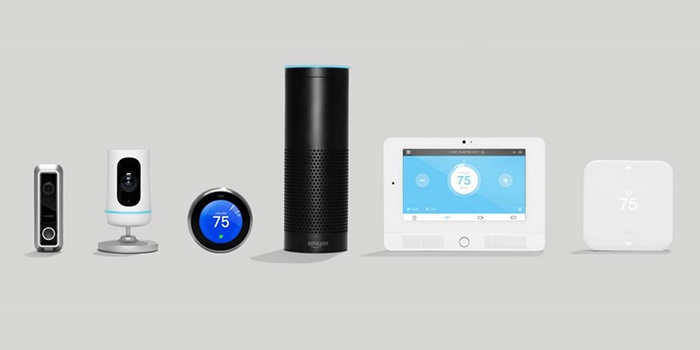 Incredible New Technology for Vivint Authorized Retailers in 2016!
WRITTEN BY:
Ben Jenkins
DATE: February 9, 2016 at 5:10 PM
Vivint is already set to have an amazing year. Several new innovations were recently announced at CES 2016 and the word is getting out about how advanced Vivint is with home automation and security.
The doorbell camera and indoor camera will provide the sneak peak every homeowner wants as they strive to protect their most valued possessions. And the integration with Amazon's Echo and the Nest will give users an entirely new way to interact with their smart home.
With all of these advancements in technology, there truly has never been a better time to become a Vivint Authorized Retailer through RS&I. We are a master sales agent for Vivint, which means we are able to get you set up with this amazing business opportunity. It's profitable for you and affordable for your customers.
But first, let's take a look at all of this new technology!
Vivint Doorbell Camera
Vivint recently announced that their doorbell camera won a 2016 BIG Innovation Award from the Business Intelligence Group. It was the only smart home product among 47 innovation award winners.
"It was clear from our judges that Vivint Smart Home was clearly deserving of being recognized as a leader in innovation and we are proud to award them the 2016 BIG Innovation Award," said Russ Fordyce, managing director of the Business Intelligence Group. "Congratulations to the entire team. This is well-deserved recognition of your pursuit of excellence and creativity in solving problems."
It's the only doorbell camera on the market that integrates seamlessly with a complete smart home platform. Homeowners can engage in two-way conversations with visitors on their doorsteps from their mobile devices, and simultaneously use Vivint's smart home technology to remotely unlock the front door, open the garage door, disarm their security system and more. Featuring the most compact design on the market, the Vivint Doorbell Camera also offers live on-demand video, recorded clips, 180-degree view, night vision and customizable notifications.
The best part? The Vivint Doorbell Camera is just one of many innovative products you can provide to your customers as a Vivint Authorized Retailer.
Keep on reading!
Vivint Indoor Ping Camera
Vivint Ping is the first indoor camera that enables true two-way talk with the ability to both call in and call out so families can easily connect and communicate. By pressing a button on the camera, anyone in the home can reach any user connected to the home. When remote users receive a notification on their smartphone or tablet, they can see the person in the room and begin a two-way conversation.
"Great innovation sometimes comes from observing unexpected behavior in your own customer base," said Matt Eyring, chief strategy and innovation officer at Vivint Smart Home. "Our research showed that younger children, specifically those without cell phones, were ringing our doorbell camera to talk to their parents. With Vivint Ping, we've created an indoor camera that makes these quick check-ins simple."
See the Vivint Ping camera in action here.
Key features of the Vivint Ping camera include:
One-touch Callout: While other cameras allow you to call in to a room in your home, the Vivint Ping camera also allows anyone in the home to call out. The camera has multiple microphones with advanced echo cancellation that allow for clear, two-way conversations from any mobile device.
Customized Notifications: Personalized notifications to your mobile device will alert you when the camera detects a person in the room. You can customize notifications for specific events, such as when your child comes home from school.
Vivint Smart Clips: The cloud-based Vivint Smart Clips service gives you on-demand access to 20-second recorded clips of your home. You can save 45 days worth of recorded footage at no charge.
Video Analytics: Advanced video analytics ensure that you only get relevant footage. For example, the camera will record when a person is in the room, but not when light in the room changes.
140-degree HD View: Vivint Ping gives you a sweeping view of the entire room in crisp 1080p video from your smartphone. With infrared LEDs, you can see clearly day or night.
Smart Home Integration: Integrated with the Vivint Sky smart home platform, Vivint Ping also functions as a security camera and will begin capturing video if an intruder triggers an alarm. The alarm will also alert the 24/7 Vivint monitoring center to respond within seconds.
Vivint Ping is anticipated to be released in the second quarter of 2016. So if you're thinking of becoming a Vivint Authorized Retailer, now's the time to get in contact with your local RS&I Account Executive.
Integration with Amazon Echo
Vivint teamed up with Amazon to integrate its Vivint Sky smart home platform with Amazon Echo. Marking the first time the voice-enabled device will work with a managed smart home system, this relationship allows Vivint customers to use their voice to control their smart home.
Vivint customers can talk to Alexa, the cloud-based voice service that powers Amazon Echo, using the Vivint skill and their home will respond with context-aware actions. For example, simply saying "Alexa, tell Vivint I'm going to bed" can turn off the lights, lock the doors, arm the security system and turn down the thermostat.
Customers can connect the Echo to their Vivint smart home in three easy steps using the Amazon Alexa app. From inside the home, users now have the option to control their smart home using their voice with Echo, or to use the Vivint SkyControl panel or Vivint mobile app.
Using Amazon Echo, customers can control the following smart home experiences with their Vivint system:

Smart Door Locks: Through Alexa, customers can find out whether doors are locked and can ask Alexa to lock them.
Smart Security: Customers can ask Alexa whether the security system is enabled and arm the system to "stay" or "away" mode.
Smart Thermostat: Vivint customers can ask Alexa to adjust the temperature through set point changes or by turning the fan on or off.
Lighting Control: Customers can ask Alexa to dim lights or to turn them on or off.
Garage Door: Customers can ask Alexa whether the garage door is open and ask that it be closed.
"We believe voice control is the future of the smart home, and Vivint is pleased to integrate with the best far-field voice solution on the market," said Matt Eyring, chief strategy and innovation officer at Vivint.
Integration with Nest
And last, but not least, we have Vivint's integration with the Nest Learning Thermostat. With the integration, Vivint customers can now connect a Nest Thermostat to their smart home, and control it from their Vivint mobile app or the Vivint SkyControl panel inside their home.
"Working with Nest aligns with our mission to provide the most innovative smart home experience by giving customers access to best-in-class products," said Jeremy Warren, chief technology officer at Vivint. "We deliver a seamlessly integrated smart home, where the homeowner's thermostat, door locks, video cameras and security system all work together to make everyday life easier. We're excited now to include Nest in this lineup."
Since Amazon's Echo works with a Vivint system, customers can control their thermostat from anywhere in the home through the additional integration with Nest.
Vivint smart home customers also benefit from professional installation of the Nest Thermostat at no additional cost, as well as access to Vivint's 24/7 customer support and monitoring.
Current Nest Thermostat users can integrate with a Vivint smart home today. The Nest Learning Thermostat will also be available nationwide as part of all Vivint smart home packages beginning Spring 2016.
Now You Can See Why
With all of this fascinating new technology, you can see why it makes sense to become a Vivint Authorized Retailer through RS&I. Let us help you add Vivint to your existing sales portfolio or start an entirely new adventure. The home automation and security industry is booming and Vivint is at the top of the competition. You'll get a profitable business opportunity along with an affordable smart home system for your customers.
Vivint and RS&I will help you make it all happen this year. Contact us as soon as you're ready, but don't wait too long!
Sources: The majority of the content in this blog post came from the online articles listed below.
Vivint Doorbell Camera (Press Release)
Vivint Integration with Nest (Press Release)
Vivint Integration with Amazon Echo (Press Release)