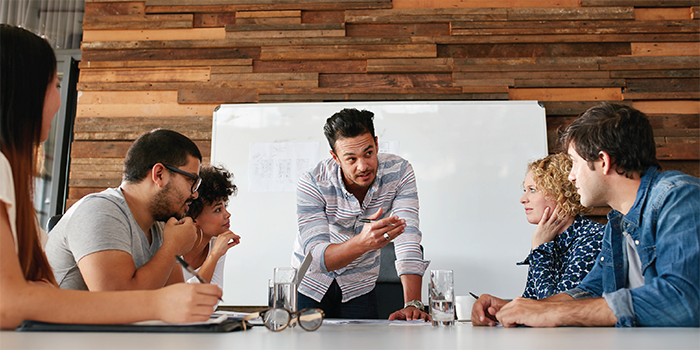 How to Lead a Small Business with Passion and Success
WRITTEN BY:
Ben Jenkins
DATE: December 9, 2016 at 12:05 PM
"Oops. I dropped the ball."
It's a phrase that many small business owners are bound to use from time to time. But it's also a concept they come to embrace — simply because they often consider themselves as risk takers. After all, it takes guts to set out and accomplish a vision that others may not deem as possible or achievable.
In fact, in most cases, small business owners have to be willing to look a little foolish or irrational to everyone watching from the sidelines. Because, try as they might, they are bound to fail. Not once. Not twice. But it's likely they will fail multiple times as they attempt to pursue their dreams. Yes, they'll drop the ball. They'll even trip and stumble sometimes as they attempt to sprint to the goal line.
Yet, even though failure hits the fan, they often come out on top in the end.
So how do they get beyond the whole risk taking thing and lead a small business with passion and success? What are the ingredients to that recipe? And how does it all play out?
Becoming Better Than Average
An article from Harvard Business Review called How the Best CEOs Differ from Average Ones sheds some light on what takes a CEO to the next level. They compared the results of the highest performing CEOs to those of their less successful peers and they've concluded the best CEOs stand out in three ways. In reality, these same principles can apply to any chief executive or business owner - big or small.
1. "They show a greater sense of purpose and mission, and demonstrate passion and urgency."
In essence, the top CEOs can't stand still and just watch the game unfold from the bleachers. They have to identify their mission and show their team how to make it work. Developing a sense of swiftness and audacity is also key to modeling the right behavior for each and every employee. When the CEO is strategic and bold, his or her staff will be much more likely to act the same way.
2. "They value substance and going straight to the core of the issue."
A business owner has to have the ability to cut to the chase. Alexander Graham Bell said it best when he taught, "Concentrate all your thoughts upon the work at hand. The sun's rays do not burn until brought to a focus." With every bit of information swirling around us like a giant communication hurricane, the top boss has to understand the chaos, while at the same time being able to see the eye of the storm. This includes having the ability to make tough decisions. They may have several of their own employees either agreeing with them or fighting against them on important issues, but the best leaders see the big picture and make courageous decisions.
3. "They have a greater focus on the organization, outcomes and results, and others than on themselves."
Even though a business owner needs to act strategically, they also need to just listen and be humble. No one can pretend to know everything. It may sound counter intuitive, but they may even need to reach out and ask for others' opinions on large and small topics. Basically, information precedes revelation in most cases. A better-than-average CEO has to be an expert at gathering information, needs to ask the right questions, and have the best interest of the organization at heart. It's difficult to have "aha moments" without actually seeking after such experiences. And most employees have an internal bull crap meter - meaning they can tell when their boss is only focused on him or herself.
When CEOs can demonstrate a greater purpose, attack real issues and focus on the people, they become better than average. All the other stuff that flies at them on a daily basis should just take a back seat as much as possible.
Chief Executive Officer vs. Chief Digital Leader
One more area to remain laser focused on is in the digital realm. Today's chief executive officers are now becoming more and more considered as chief digital leaders. It's really not an option for CEOs to be complacent with their digital game and not maintain a high familiarity with their online presence.
"Companies that rapidly adapt to digital business models don't just 'do digital'; they 'act digital.' In other words, they practice an entirely new model of management. And their CEOs are leading the charge," says the research from Harvard. They continue, "As we've studied digital leadership over the last few years, we find something else important: Culture is key. Success is largely dependent on people sharing information with each other, partnering, and continuously educating themselves. This is able to happen when you build a collective, transparent, and deeply shared culture. CEOs who are digital leaders are continuously reinforcing the culture, communicating values, and aligning people around the culture whenever something goes wrong."
Whether the business is big or small, the vision of where a company is headed digitally is fundamental to creating a winning strategy. Because let's face it, we're not going to get less digital as we move forward. Why would we? The future of business is to be fast paced, adaptive and innovative with a vast mindset for digital applications.
Leading the Charge
In the end, the point is to at least have the ball in your hands and to be sprinting, dodging and twisting your way to the goal line. Yes, it may get dropped along the way, but that's normal. Just pick it back up. Leading a small business with passion and success includes every ounce of vision, problem solving, selflessness and being technologically savvy.
Keep moving forward!
---
And thanks for checking out our blog! If you'd like to learn more about RS&I and how we're helping others to grow their businesses, take a look at another article called Who is RS&I and How Do They Help Authorized Dealerships?