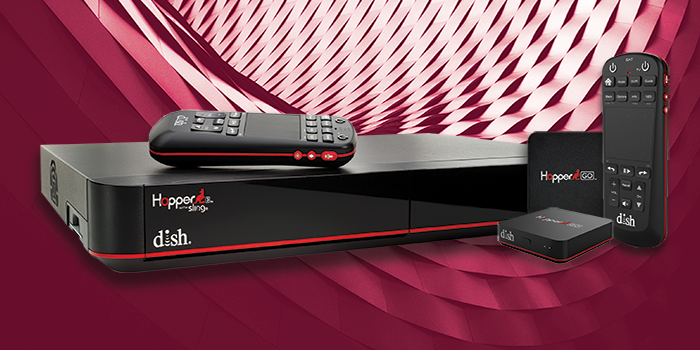 Discover the Newest DISH Technology
Have you seen all of the technology released by DISH in 2016? It packs a ton of value for consumers. From the world's most powerful DVR to a portable TV-watching hard drive and a voice-activated remote, every customer will have their needs met.
You may have already heard about the Hopper 3, HopperGO and the newest DISH remote. But, if you haven't already, it's worth researching some of the best features in each of these brand new products. You'll be extra impressed as you skim through the highlights below.
Hopper 3

It's the latest and greatest in the line up of DISH DVRs - and it far out paces the competition. It gives such a customizable viewing experience that customers will have a hard time thinking of how it could be better. Check out these most notable features:
Hours & Hours of Recording
Up to 2,000 hours of TV can be stored on the 2-terabyte hard drive, which is twice the storage capacity of any of the DVRs from other major competitors. Full seasons of TV shows, hundreds of movies, and plenty of action-packed sports games can be saved for a later date.
MultiView
With MultiView, you can keep your eye on four sports games or four news channels or four of whatever you want - all at the same time! For example, it's especially handy during the NCAA Final Four Tournament to keep all of your guests happy while March Madness plays out. (You may want to make sure you have a BIG TV.)
Built-in Apps
You can turn any TV into a smart TV with all of the built-in apps the Hopper 3 provides. You won't have to navigate away from the DVR to get to Netflix, YouTube, Facebook, Pandora and more!
Watch Anywhere
DISH lets you watch live programming and recorded content anywhere you go and on any mobile device. Whether you're at the gym, in the backseat of a car, fishing on the river or trying to hide from the kids, you can watch your shows when it's convenient for you.
4K Ultra HD
Get ready for the quality of 4K content. Your screen can't look any better or brighter with ultra-high definition TV.
And that's not all. There are several more features packed into this DVR. Take a minute to download and review our free comparison guide to see how the DISH technology in the family of Hopper DVRs has advanced since 2012.
HopperGO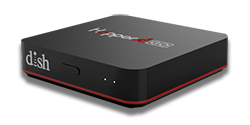 Going on a trip? The HopperGO is perfect for you. It's basically an external hard drive for your TV. Whether you're in a car, on a plane or a boat, you'll be able to watch your favorite TV shows and movies with over 100 hours of DVR recordings. As long as you have the Hopper 2 or 3, you're all set to transfer your recorded content to the HopperGO.
With a private wireless network, you'll be able to stream your entertainment collection to up to five mobile devices at the same time. There's no need to worry about having an Internet connection or filling up your phone's storage capacity. Plus, parents and their children can get along a lot better with this fun little device when they're on vacation.
It's always a win-win situation with DISH.
Voice Remote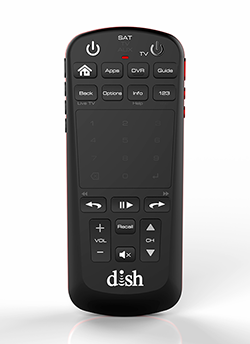 DISH listened to consumers a lot to develop their newest remote. They reduced as many buttons as possible to reduce confusion, and it also has some fun features:
Remote Finder
When you press a button on the Hopper, the remote will beep and blink to reveal its location. No more hunting for the remote!
Voice Remote
Just press the microphone button on the side of the remote and tell it what you want to watch. It'll give you plenty of options to fit your request.
Skip Commercials
Quickly get back to your show by using Auto Hop with the remote. It makes it fun and convenient.
No More Conflicts
With the newest remote, you'll be able to easily engage with it to record up to 16 shows at the same time on the Hopper 3. It makes it easy to get everyone's preferred programming recorded on the DVR.
To Sum It Up
As you can see, the newest DISH technology is pretty impressive. Consumers have every reason to feel confidant in their purchase of the Hopper 3, HopperGO and the new remote.
If you're trying to decide on putting a DISH system in your home, search online for your local DISH Authorized Retailer and they'll be able to answer all of your questions.
Become a DISH Authorized Retailer
If you're looking for a business opportunity, we can help. RS&I is a master distributor and sales agent for DISH and we can get you set up with your own DISH business. We have eight locations in the western U.S. to provide the distribution and sales support you need. Our sales team is available to help you understand the requirements of becoming a DISH Authorized Retailer and any other details you may need to know.
We look forward to helping you build your business!