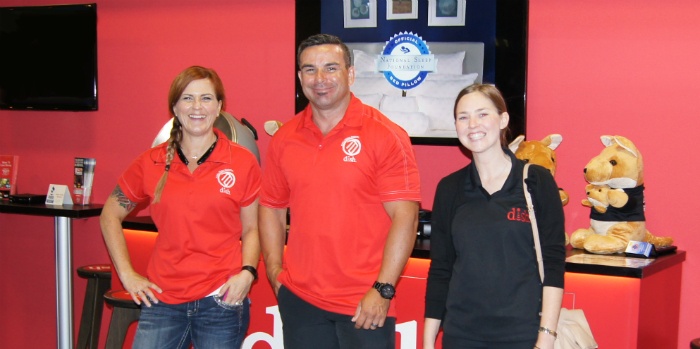 Authorized Dealer Events: 4 Tips to Follow
WRITTEN BY:
Ben Jenkins
DATE: August 11, 2015 at 4:40 PM
Running an event and executing a successful event are two very different things. In order to be successful at an event you need to come prepared. There are multiple factors that contribute to success – from appearance of your staff and event space, to how well your sales staff is trained, to how effectively you follow-up with leads at the event.
Events can be a very cost effective way to grow your sales and build your brand. They give you an opportunity to sell face-to-face and to demonstrate your product. Often times the leads you gather at events continue to produce sales even after it is done.
This is not meant to be a comprehensive list, but these four tips will help you run a successful event as an authorized dealer.
1. Create a Sharp Looking Sales Team
"Clothes and manners do not make the man; but when he is made, they greatly improve his appearance." (Arthur Ashe – www.brainyquote.com)
Selling at an event gets you in front of people. And the way your sales staff dresses and acts will be one of the first things that any potential customer will notice – even if it's subconsciously noted. So it is very important to portray a professional and approachable appearance.
Use these three suggestions on how to create a professional appearance with your sales staff at an event:
Matching/Professional Attire: Be sure to purchase polos or dress shirts with your authorized dealership logo and the logo of your corporate partner. Also, we recommend having your sales staff wear matching slacks and shoes to create as much of a team environment as possible.
Well Groomed Appearance: Your sales team should follow basic grooming practices with hair being done, facial hair trimmed or makeup in place (where applicable), and be sure other basic hygiene practices are followed. This makes them more approachable by a wide variety of potential customers!
Name Tags or ID Badges: A name tag or ID badge can add credibility and approachability. In many cases you can have an ID badge produced for a relatively low cost. It is well worth the investment.
2. Make Your Event Area Appealing
In addition to your sales staff looking professional, you also want an impressive environment. An attractive looking setup can draw potential customers to you, while a poor non-professional looking event can provide a reason to drive them away.
Apply these three tips to create a memorable looking event:
Professional Setup: Get a nice looking tent or display with the appropriate logo and colors. There are several vendors who can get you what you need.
Quality Sales Materials: In most instances when you are an authorized dealer you'll have access to already created professional looking sales and marketing materials. Be sure to bring these and have them on hand.
Organized Area: Keep your area organized. This means no trash on the ground or loose papers floating around. Keep all tables and surfaces clean if you have them.
3. Effective Sales Staff
Equally as important, if not more, than a professionally dressed sales staff and top-notch event setup, is having an effective sales staff. After all, if they can't sell, don't understand the promotions, or don't know the product, then they will be hard pressed to convince a customer to purchase your product or service!
These may seem pretty basic, but they are very important. Follow these guidelines to help improve the effectiveness of your sales staff:
Well Trained: This is a no brainer, but please be sure you take the time to train the staff on the product or service you are selling. They should come across as confident and comfortable when speaking to potential customers. They need to be the expert!
Use Product Demos: Events are face-to-face selling opportunities. One of the best ways to do this is to arm your sales staff with a product demo. A potential customer should be able to touch the product and experience how it works. We recommend providing your sales staff with product demos to increase their effectiveness.
Promos and Gifts: Your staff will be much more effective if they have an incentive to offer the customer – or something they can use as a closing tool! This may be a promo like FREE INSTALLATION or $100 mail-in-rebate. It can also be a gift-with-purchase, such as a pair of headphones or a gift card.
4. Follow-up System
Finally, you will probably walk away with a lot of leads of customers who were interested but who weren't quite ready to make a final decision; maybe they were in a hurry, or they needed to check with their spouse. In any case, having an effective follow-up system can turn many of these leads into paying customers!
Get more results with these follow-up tips:
Quick Follow-up: A lead is much more likely to convert to a sale if followed up within 24 to 48 hours. Make a note when you receive the lead, then assign a follow-up quickly.
Establish Connection: Remind them they provided you with their information at [event name] and that they asked for a follow-up call. This helps establish a connection and build credibility that you are not a telemarketer.
Ask Additional Questions: Asking questions will help you identify needs and goals. You'll be better able to know how to help them and explain the benefits of your products and services in a relevant way.
Events can be a cost-effective way to grow your business and expand your presence as an authorized dealer, but only if done the right way. It takes professionalism – both from your staff and in your event setup. In addition, an effective staff, who engages customers and know the products will help drive sales. Finally, remember to use effective follow-up techniques.
Feel free to download our event checklist to help you make sure you bring everything you need to your next event!