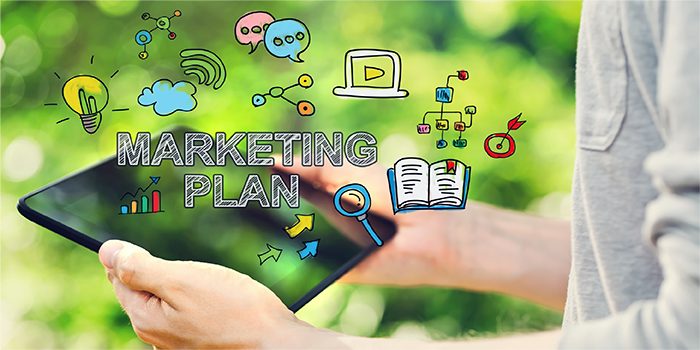 3 Main Tips to Get Your Marketing Plan Set for 2018
WRITTEN BY:
Ben Jenkins
DATE: November 30, 2017 at 5:19 PM
As you know, marketing plans need to be fluid as you adjust for the unexpected scenarios that regularly arrive at the door step of every small business owner. As soon as you think you know where you're headed, you may have to adapt to new information, delays or even a new strategy.
But having a marketing plan in place is crucial to the overall success of any business these days. A solid plan sets you on solid ground and gives you the direction you need to get the word out about the products and services you offer.
As you refuse to settle for the mediocre, take a look at the tips we'll review below to help you brainstorm some new ideas for your own marketing practices. After all, the new year is upon us and you'll want to make 2018 another big success.
1. Check the Basics
A few necessities will need to take place in order to bring about the most progress throughout the coming year. Think about this list of questions to make sure you've covered your bases:
Have you held a marketing brainstorming meeting?
If not, gather your team together and put every single thought you can onto a whiteboard, a chalkboard, a projection screen or whatever kind of board!
Based on your sales goals, have you actually written down your marketing plan to achieve your goals?
It's always the right time to make sure your sales goals and marketing activities are in balance.
Is the projected marketing budget established?
Money. Money. Money. Yes, keeping track of your marketing budget is a crucial part of the overall picture.
Has your marketing calendar with tactics been put in writing?
Scheduling each tactic and getting a visual representation of your yearly activities helps you fill in the gaps you may not have seen otherwise.
Do you have a referral program for your customers to use?
Making certain your customers know how to refer a friend or family member to your business is vital to garnering those incremental sales. Whatever you do, set up a strong referral program.
Are you planning to keep it fluid? If so, how?
Like we said before, your plan will need to be fluid. Setting up your yearly calendar with tactics will help you see where to make adjustments when needed.
2. Check Your Online Presence
We all know having an online presence is just as important, or more, as having a physical location where your customers can shop or acquire the information they need to make a decision to buy your products and services. But does everything online represent what you currently offer? Now's the time to check.
Is your company's website current with correct information?
Everything from business hours, to location, to current offers should be reviewed to keep your customers' expectations in line with what you can provide.
Are your social media profiles and cover photos up to date?
If your social media has gone a bit stale, it doesn't take much time to give it all a face lift with some new profile pictures and cover photos. It's also a great idea to keep your branding consistent across all of your social media channels.
What new activities do you plan on doing online?
Maybe you've never done a Facebook Live event or maybe you want to test out a new platform. Whatever you do, jot down your new activities to make sure you don't forget which experiments you want to try.
3. Check Your Marketing Materials
Even the printed materials need to be looked over for consistent information and branding. It's a good idea to have a hard copy of all your marketing materials in one place to make sure you're able to review them on a regular basis.
Are all of your sales brochures and one-sheets current?
Take the time to know before your sales team starts barking at you for updated materials.
How does your team look? Do they need a refresh?
If your team requires new apparel, like company branded shirts or hats, take some time to know if they could use some clean and new looking gear.
Check Out Our Marketing Plan Workbook
After thinking about each of the questions above, we hope you've thought of a few new ideas to add to your marketing efforts in 2018.
If you're a new small business or if you'd like some help getting more details put down in writing, check our our Marketing Plan Workbook. It's got even more great ideas on how to put your plan together. Enjoy!