Sprint has now officially joined forces with T-Mobile, and RS&I authorized retailers are able to be at the center of all the action!
Bigger and Better Network
With Sprint becoming part of T-Mobile, customers get to benefit from their combined network power. While both brands have spent decades building their networks and gaining experience in the wireless industry to deliver the best experience, customers get to reap the rewards – which means they can rely on a strong network wherever they are. T-Mobile also already has the largest 5G network, which gives users even faster speeds, better coverage, and stronger connection than ever before. Plus, T-Mobile is promising to not stop there, as they've made commitments to continue to innovate and build the best network around. Here's just a few of the things they're working towards:
Over the next six years, increasing network capacity over 14x what it is today.
8x faster network over the next few years, and 15x faster in the next six years.
Within the next 6 years, will provide 5G to 99% of Americans.
Plans and Devices That Work for You
The new T-Mobile has all the hottest devices at great prices, for everyone in the family. No matter if you're looking for the latest iPhones, or the wide variety of Android phones on the market, T-Mobile has got you covered.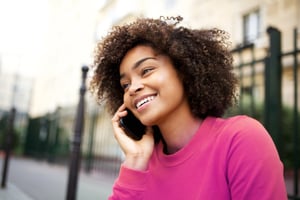 When it comes to service plans, customers have options to choose the best plan that works for their needs and interests. All plans come with the normal features you'd expect such as unlimited talk and text, unlimited 4G LTE data, 5G network access, and mobile hotspot data. In addition to those standard features, every plan also gets Scam-Blocking Protection which provides five layers of scam-blocking to keep you from getting unwanted spam calls. Plus, every customer gets access to T-Mobile Tuesdays, which gives out free stuff, discounts, and more every Tuesday with the T-Mobile Tuesdays app.
Do Sprint Customers Need to Make Changes?
The great news for existing Sprint customers is that they don't need to make any changes due to the merger with T-Mobile. Their account access, bill pay, and plan management is all still done through the Sprint interface that they're accustomed to. But as discussed above, they also gain access to the strength of the combined networks! And, they can start enjoying the benefits of T-Mobile Tuesdays!
Great Dealer Sales Opportunity
Whether you've been working with RS&I as a Sprint dealer up to this point, or you're just getting started to learn the exciting world of the new T-Mobile, the authorized retailer program remains the same. With RS&I behind you, you get sales and marketing expertise that is unmatched in the industry to guide you every step of the way to set up your dealership and start creating success! In addition to all of that, there are promotions and incentives to help you out along the way!
With all the new and exciting benefits that the T-Mobile brand brings to the table, there's never been a better time to sell wireless phone services as an RS&I authorized retailer. Contact RS&I today, and a representative from one of our regional branches can help you discover how easy it is to get started selling!