The smart home revolution is here, and RS&I has the authorized retailer programs featuring the best products that can put your business at the forefront of it all.
What is Smart Home?
Smart home (sometimes referred to as home automation) consists of devices and systems that allow users to easily and automatically control entertainment systems, lighting, temperature, cameras and other home security components. All of this and more can be controlled with simple voice commands or through integrated apps on your smart phone.
Smart Home Industry Trajectory
Smart home technology has already made a big splash in the consumer electronics and home improvement industries, and it's not slowing down any time soon. According to a report by Zion Market Research, the smart home market was valued at $24.1 billion in 2016, and is projected to grow to $53.45 billion by the end of 2022. One of the major drivers behind this is the rising cost of energy. Because Smart Home devices such as thermostats and outlets can communicate with each other and be controlled from anywhere with an internet connection, consumers can optimize their heating and cooling systems to not be wasting energy when they're away from home. Additionally, the convenience and ease of access that smart home devices boast are bringing consumers an unprecedented level of comfort at home.
Vivint Smart Home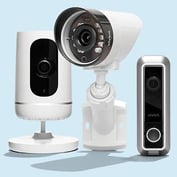 RS&I dealers have the opportunity to sell as an authorized retailer for Vivint Smart Home, the leader in subscription-based home security solutions. As part of their services, Vivint provides 24/7 monitoring to give customers constant peace of mind. Motion detectors on doors and windows alert you and the authorities if there is an intruder in your home. Indoor and outdoor cameras allow you to keep an eye on your family and your valuables from anywhere via the Vivint mobile app. Doorbell cameras allow you to see who is at your door before you answer it. Smoke detectors, carbon monoxide detectors, and even water sensors warn you instantly at the first sign of danger, so that you can quickly respond to such threats before they become a more serious problem for your family and property.

Google Nest


Dish has partnered with Google Nest to bring Google Assistant integration into their TV remotes and receivers. This allows viewers to navigate content and control their receivers with just their voice, and also provides quick and easy access to weather, news updates, sports scores and more. Because it's integrated with Google Assistant, that means users can also communicate with and control any and all other Google supported devices in their home right from the Dish remote.
As a Dish authorized retailer partnered with RS&I, you can give your customers the best options in entertainment, as well as the cutting edge of Google Nest devices such as Home Hubs, Google Home Mini speakers, indoor and outdoor cameras, and thermostats.
RS&I is proud to have partners that are leading the growth in the smart home industry. Through your authorized retailer partnership with us, you can capitalize on your own piece of these booming products. Contact us today to get started with your own dealership, and see how these sales programs through Dish and Vivint Smart Home can be combined to be as profitable as possible!