In today's world, it is integral to be connected at all times. Whether you're working, communicating with friends and family members, monitoring your home's security, controlling smart home devices, or simply viewing entertainment media, a consistent internet connection is important to everyone. We've all experienced locations in our homes that have weak WiFi signal or no signal at all. What if you could move throughout your entire home (and even your yard, garage, or shed) and never lose WiFi connection?
The Old Solution
There was a time when the best solution for WiFi dead zones was to use a WiFi extender or repeater. While an extender did serve a purpose to somewhat mitigate the WiFi distance problem, it would also bring new problems along with it.
The first complication is that an extender requires a different network name and WiFi password than the core router in the home. So, when moving to rooms or areas in your home that are out of range of the main router, you would need to manually go into the device settings each time to tell it to connect to the extender rather than the main router.
In addition to that, a WiFi extender only has the capability to re-broadcast 50% of the original bandwidth the main router is providing. This means that any device using the extender will have a much slower connection than if it were connected to the main router.
The New Solution – Mesh Networks
Mesh Routers address all of the downfalls of a WiFi extender to truly provide a complete solution to dead zones in a network. In a mesh system, you don't ever have to deal with switching to a different network name, and you get the same bandwidth throughout your whole home that you would get if you were right next to your main router. RS&I has mesh solutions no matter which authorized partner retail programs you participate in.
HughesNet Mesh Router
RS&I HughesNet authorized dealers have the Hughes mesh router to offer their customers to ensure they get great signal throughout their entire home. It provides a whole-home coverage solution that is optimized for Hughes customers.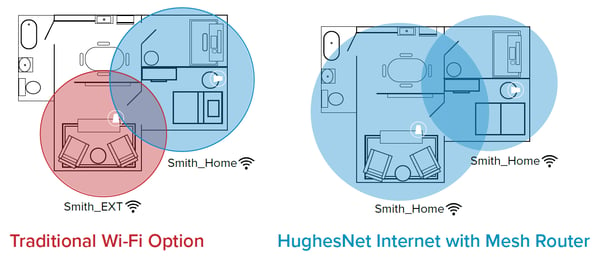 Google WiFi Mesh
All authorized retailers with RS&I also have the entire family of Google Nest products available to sell, including Google WiFi. The Google WiFi system offers a mesh network solution to all customers, regardless of what type of existing internet connection they have. The Google system allows you to add as many additional units/nodes to ensure that you can cover your entire home with strong WiFi signal. You simply connect one Google WiFi unit to your existing cable or DSL modem via ethernet cable, and then each additional node connects wirelessly to that Google WiFi unit.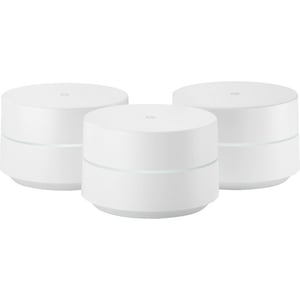 Two Google WiFi units connected together can cover up to 3000 square feet with strong WiFi signal. Google's offering is simple to set up, and allows users to manage and monitor their network with an easy to use and free mobile app for iOS or Android.
Velop Routers
Last but not least, RS&I authorized retailers have the Velop routers by Linksys available as well. This mesh system functions similarly to the Google WiFi system, allowing you to add more nodes to the router system as your WiFi needs change and grow.
RS&I has all the best options available to assist your business with helping your customers to stay connected at all times throughout their whole home. To find out more about becoming an authorized retailer for any combination of our sales programs, contact us today!